Substitute teacher pleads not guilty in high school classroom 'fight club' case
A former substitute teacher in Connecticut pleaded not guilty Tuesday to accusations that he organized and supervised a shocking student fight club during a high school math class.
Ryan Fish, 23, allegedly oversaw at least three scheduled fights in October that involved five boys between 14 and 16 years old, Fox 61 reported. He allegedly told police at the time that he thought the kids "needed an out."
According to police, cellphone video showed Fish encouraging students to fight as they hit each other in a Montville High School classroom. He also could be seen moving items out of the way so the fights could continue.
An investigation started last December after one student told a social worker that he was beaten and robbed while at school.
'I'M AN IDIOT,' SAYS EX-SUBSTITUTE TEACHER ACCUSED OF RUNNING STUDENT 'FIGHT CLUB'
Police said they learned Fish was confronted by the school's principal about the alleged fight club in October 2017 and defended what happened by telling the school official, "boys will be boys," Fox 61 reported citing a police report.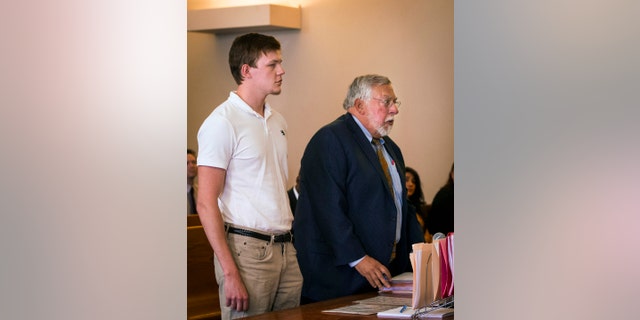 Fish was fired later that day.
State officials said that they were never contacted by the school over the incident in October and that it was acknowledged only after police began their investigation.
The school's principal, superintendent and an assistant superintendent were arrested in April for failure to notify the proper authorities and have been placed on leave since.
Fish pleaded not guilty to two counts of risk of injury to a child, four counts of second-degree reckless endangerment and one count of second degree breach of peace but reportedly told police during their initial investigation that he was "sorry."
"I am so sorry. ... To be perfectly honest, I was just trying to reach the kids," he reportedly said while denying the allegations. "I thought these kids were just being rambunctious. I just thought they needed an out."
Fish filed his plea with an attorney in Norwich Superior Court and requested a jury trial.
Fox News Amy Lieu and The Associated Press contributed to this report.