Stolen teacup Chihuahua back in the arms of World War II vet, 93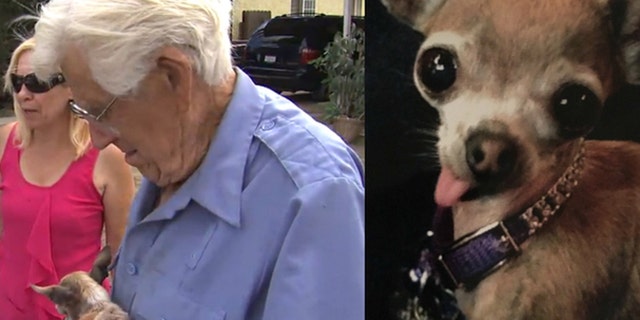 A stolen teacup Chihuahua on Saturday was back in the arms of a 93-year-old World War II veteran who thought he would never see her again, Fox 11 Los Angeles reports.
A boy saw a woman drive up to Roger LeClair's front yard in Downey in a red car and snatch tiny Lola Nov. 9.
The theft devastated LeClair, who posted signs in the neighborhood and even offered a reward for the dog's safe return, according to the station.
"She was only the size of a large mouse when I first got her," LeClair told the station. "We sleep together, we go everywhere together. She's just the love of my life."
Fox 11's report on the heartless theft generated more than 1 million views on Facebook and was widely shared by people hoping to reunite the vet and the dog.
On Saturday a woman in Chino told LeClair she found the dog at a school.
"Oh sweetheart, my goodness," LeClair said to the woman as he petted Lola. "I don't know how to thank you."
The 12-year-old dog appeared to be okay, the station reported.
Click for more from Fox 11 Los Angeles.