Steve Wynn sues Lisa Bloom for defamation, claiming he couldn't have 'leered' at dancers because he was blind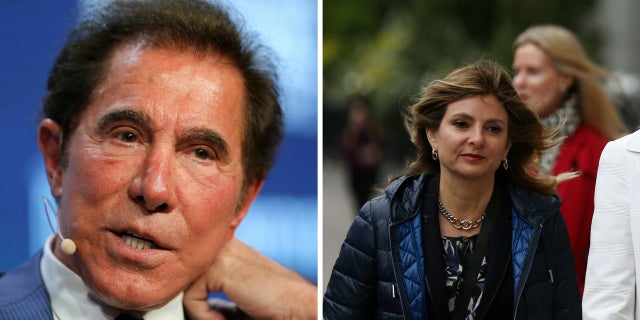 NEWYou can now listen to Fox News articles!
Embattled casino mogul Steve Wynn filed a defamation lawsuit Thursday against attorney Lisa Bloom and her law firm, claiming accusations Wynn "leered" at female performers could not have been true because he was legally blind at the time.
The lawsuit cites a press release from The Bloom Firm from March 22 when the lawyer detailed her client's sexual harassment allegations against the casino mogul, the Las Vegas Review-Journal reported.
A former ShowStoppers dancer claimed fellow performers would have to strip from workout clothes to their bra and panties when Wynn would visit them during practices, Bloom's press release stated.
"Mr. Wynn would then sit in the front row of the theater and leer while the female performers danced particularly physically revealing segments of the show," the release said.
Wynn, 76, said the dancers wore "audition-appropriate attire," according to court documents filed in Nevada.
"During rehearsals of ShowStoppers, all performers – men and women – were expected to wear audition-appropriate attire. The performers selected their own audition-appropriate rehearsal attire," Wynn's suit stated.
STEVE WYNN RESIGNS AS CEO OF WYNN RESORTS, COMPANY SAYS
The documents also included a letter from Wynn's attorney to Bloom regarding the press release.
Wynn's lawyer claimed his client could not have been "leering" because he has "suffered severe problems with his eyesight for decades and has been legally blind since 2010."
"I strongly suspect that at the time you wrote your fictional press release, you intentionally ignored the undisputed fact that Mr. Wynn was legally blind at all times you allege that he 'leered' at [redacted name] on the stage from late 2014 through late October," the note stated.
Wynn is seeking "at least $75,000 in damages from Bloom," the lawsuit stated.
Bloom fired back Thursday, saying she will "fight him in court" and "will win."
VEGAS MOGUL STEVE WYNN TO FACE REVIEWS AFTER REPORT ALLEGES SEXUAL MISCONDUCT
"In my opinion, Mr. Wynn sued me in an attempt to intimidate other women. This time, he chose the wrong woman. I will fight him in court, and I will win, just as I have won against so many other high profile men," Bloom wrote in a statement. "Perhaps Mr. Wynn has not heard of the #MeToo movement. It is even more powerful than an unemployed billionaire."
Wynn resigned from his position as CEO and chairman of Wynn Resorts in February, following sexual misconduct allegations.
Dozens of women have accused the businessman of engaging in inappropriate behavior. He also resigned as the Republican National Committee's finance chairman due to the allegations.
Wynn has denied all of the allegations against him.
Fox News' Elizabeth Zwirz contributed to this report.