Stephen Paddock may have been planning other attacks, including car bombings, official says
The Las Vegas gunman behind the deadliest mass shooting in modern U.S. history spent decades stockpiling guns and living a "secret life" and may have planned other attacks, including a car bombing, a U.S. official said Thursday.
Clark County, Nev., Sheriff Joseph Lombardo said Wednesday that it was only logical to "make the assumption" that Stephen Paddock had "some help at some point" in pulling off Sunday's massacre.
As evidence, Lombardo pointed to gunman Paddock's huge arsenal, explosive materials found in his car and his meticulous planning.
"What we know is Stephen Paddock is a man who spent decades acquiring weapons and ammo and living a secret life, much of which will never be fully understood," the sheriff said.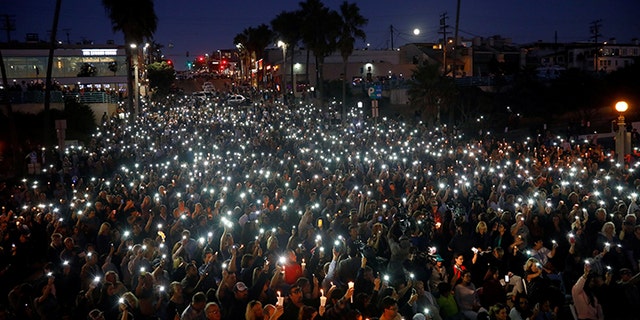 Authorities also revealed that they believe Paddock had an escape plan, even though he turned the gun on himself as police closed in on his luxury suite at the Mandalay Bay Resort and Casino. Paddock killed 58 people and injured hundreds in the attack as he fired from his room on the 32nd floor.
Authorities are still searching for a motive.
LAS VEGAS GUNMAN TARGETED AVIATION FUEL TANKS DURING SHOOTING SPREE, REPORT SAYS
"Anything that would indicate this individual's trigger point, that would cause him to do such harm, we haven't understood it yet," Lombardo told reporters Wednesday. "Don't you think the concealment of his history of his life was well thought out?"
Analyzing Paddock's computer, cellphone and other electronic devices, investigators have found no obvious ideological motive, no clear connection to extremists or activist groups or outward display of mental illness, the Associated Press reported.
An Australian man who claimed he met Paddock several times in the Philippines said the shooter was "extremely intelligent, methodical, conservative -- guarded -- and strategic. A planning, thinking type of guy."
The man, who spoke to The Guardian on condition of anonymity from his Brisbane home, said the encounters came through their respective girlfriends, both Philippine-born sisters, who had family reunions.
He said he and Paddock had "robust" discussions about American gun laws and said Paddock mentioned a "gun room" during one stay in his home in Mesquite, Nev.
"His comments were that it's a substantial hobby that needs to be protected: 'a gun room'," the man told The Guardian.
The materials found in Paddock's car -- 1,600 rounds of ammunition, fertilizer that could be used to make explosives and 50 pounds of the explosive substance Tannerite -- may have led authorities to believe the Paddock was possibly planning a car bombing.
Authorities also revealed that the weekend before the shooting, Paddock had rented a high-rise condo in a building that overlooked the Life is Beautiful alternative music festival featuring Chance the Rapper, Muse, Lorde and Blink-182. Lombardo offered no other details on what led Paddock there.
Paddock also rented a room in August at Chicago's downtown Blackstone Hotel, but never checked in. The hotel overlooks Grant Park where the Lollapalooza festival is held each year with hundreds of thousands of people in attendance.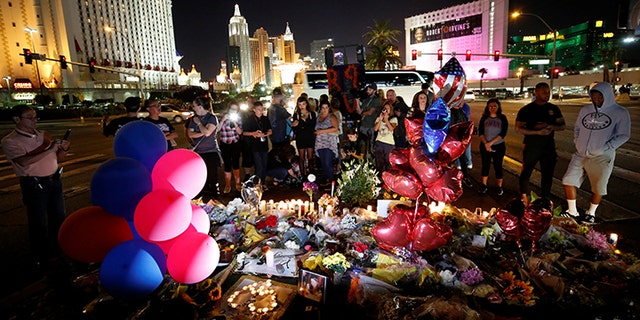 Eric Paddock called his 64-year-old brother a "private guy." As for what triggered the massacre, Eric Paddock said, "Something happened that drove him into the pit of hell."
Marilou Danley, Paddock's girlfriend, returned to the U.S. from the Philippines on Tuesday and was interviewed Wednesday by FBI agents in Los Angeles.
The 62-year-old said in a statement read by her lawyer that Paddock had sent her to see family in her native Philippines weeks earlier, and she was still overseas at the time of the attack. She said he wired her money so she could buy a house for her family, and she was initially pleased but later feared it was a way to break up with her.
FULL COVERAGE: THE MASSACRE IN LAS VEGAS
Paddock led such a low-key, private life that no one seemed to know him well, and those who did had no sense he was capable of the violence.
Where other mass killers have left behind a trail of plain-sight clues that help investigators quickly understand what drove them to violence, Paddock had nearly no close friends, social media presence or other clear connections to the broader world.
Even the No. 2 official in the FBI said Wednesday he was surprised investigators have not uncovered more about why a man with no obvious criminal record would cause so much bloodshed.
"There's all kinds of things that surprise us in each one of these events. That's the one in this one, and we are not there yet," FBI Deputy Director Andrew McCabe said. "We have a lot of work to do."
They wonder if he had some sort of mental break at the time that drove him to start making plans for mass murder.
Authorities were looking for hints in the details of the kind of life he lived, and the kind of victims and venue he targeted, said David Gomez, a former FBI national security and criminal profiler.
"We may never know to 100 percent certainty," he said. "But they will find out."
The Associated Press contributed to this report.