The Congolese immigrant who scaled the Statue of Liberty on July 4 to protest U.S. immigration policy reportedly attended demonstrations against President Trump about once a week and was previously arrested for assaulting a cop.
Therese Patricia Okoumou was charged Thursday with trespassing, interfering with agency functions and disorderly conduct. She pleaded not guilty to the charges during an initial appearance in a Manhattan courtroom.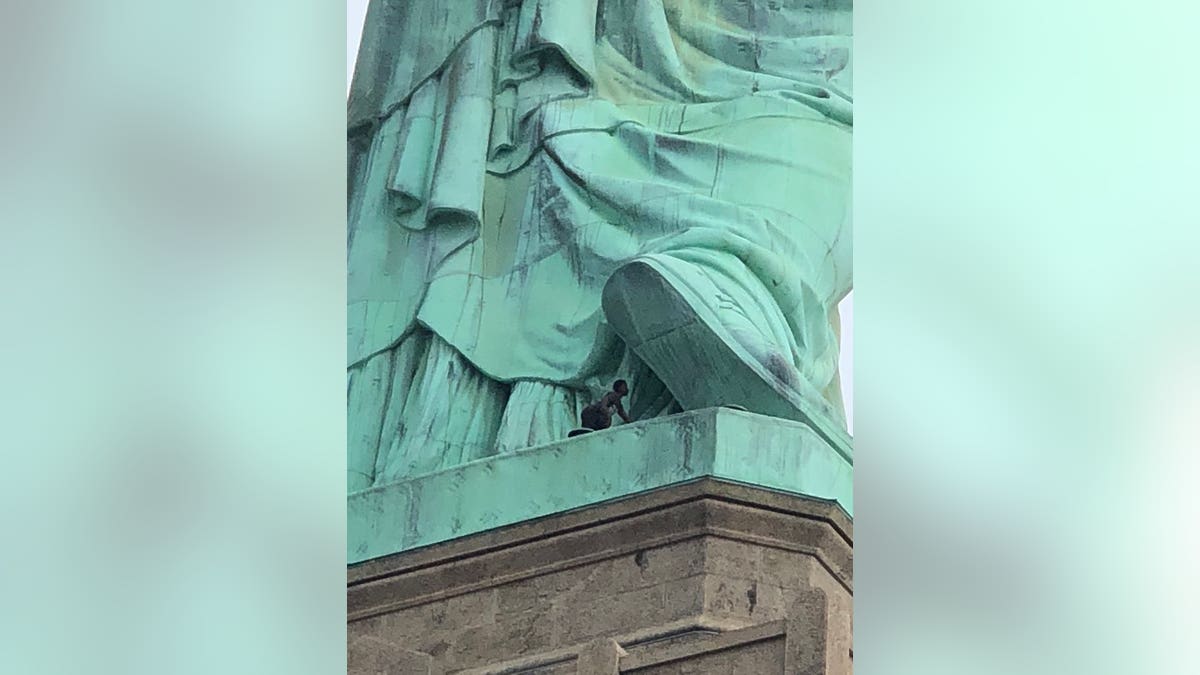 The 44-year-old was taken into custody Wednesday after a nearly four-hour standoff near the feet of Lady Liberty, where she scaled the monument wearing a T-shirt with the words "Rise & Resist" and "Trump Care Makes Us Sick." The immigrant from the Democratic Republic of Congo told police she pulled the stunt in protest of the former policy of separating immigrant children from parents who cross the U.S.-Mexico border illegally.
Okoumou had been attending anti-Trump protests about once a week after joining the group Rise and Resist a few months ago, member and activist Jay Walker told the New York Daily News. The 44-year-old had moved to New York City 10 years ago and lives on Staten Island.
"She's been an active member of Rise and Resist for four or five months," Walker told the newspaper. "She's participated in quite a few of our actions."
The group initially distanced itself from Okoumou, but later admitted she was a member and called her "our friend, our comrade, our sister."
Before her stunt on Independence Day, Okoumou had a few run-ins with the law. The personal trainer was arrested in 2017 following a demonstration against the New York State Department of Labor in Manhattan. During the incident, she covered her mouth with tape and refused to leave the building when police ordered her to, reports said. She kicked her feet and flailed her arms while refusing to get into an ambulance, leading to her hitting one of the officers at the scene.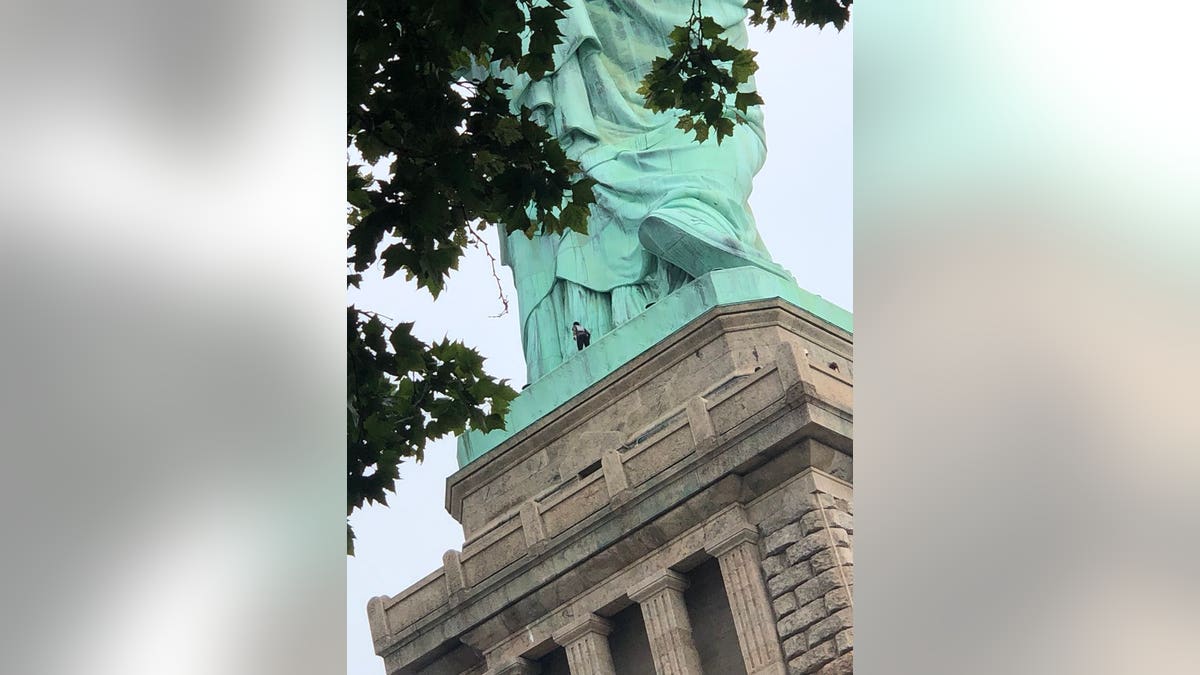 Okoumou was charged with trespassing, obstruction of government administration and misdemeanor assault, the New York Daily News reported.
WOMAN ESCORTED DOWN AFTER SCALING STATUE OF LIBERTY FOLLOWING ANTI-ICE PROTESTS
In 2011, she faced dozens of violations and $4,500 in fines after illegally posting ads promoting herself as a personal trainer, the New York Post reported. She spent five hours posting fliers on Manhattan utility poles.
Liberty State Park was shut down Wednesday and evacuated as a precaution hours before its closing as officers worked to get Okoumou down the monument. Rise and Resist announced the demonstration moments before the 44-year-old scaled Lady Liberty. The group of roughly 40 demonstrators hung a banner from the pedestal of the Statue of Liberty emblazoned with a message about abolishing ICE.
Six other people were also arrested.
Walker said Okoumou was involved in planning the demonstration, but the group did not know about her plans to climb the Statue of Liberty.
"We don't know whether she had this planned before she ever got to Liberty Island or whether it was a spur-of-the-moment decision," Walker told The Associated Press. He said regardless, he felt the stunt was good publicity.
The group also wrote in a statement: "From the moment that we realized that this amazing woman whom we have gotten to know, love, and respect was the person who had climbed to the foot of Lady Liberty, we had three concerns: one for her safety from falling, second, for her safety as a woman of color who was about to be engaged by law enforcement, and third, to find her the best legal representation that we could."
Fox News' Kaitlyn Schallhorn, Nicole Darrah and The Associated Press contributed to this report.