Sketch released in severed head case in Texas, man sought
NEWYou can now listen to Fox News articles!
A sketch of a woman whose severed head was found in a plastic bag at a Texas lake last month was released Friday, as authorities also announced they are seeking a person of interest in the case.
The head was found on March 24, as a group of volunteers were cleaning the area near Lake Houston, located about 25 miles northeast of downtown Houston. Officials at the time said the head was of a young woman with red hair.
The sketch by artist Lois Gibson released Friday by authorities shows a woman with dyed red hair, and teeth in good condition.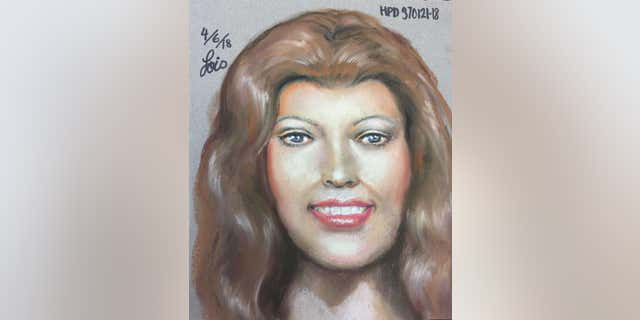 Authorities said two weeks before the head was found, a man in his early to mid-20's was seen in the area throwing a black plastic bag off the bridge after getting out of a blush-green pickup truck.
The man is described as having short dark brown hair with long bangs across his face, between 5-feet-4-inches and 5-feet-8-inches in height, and with light skin, Officer Michael Perez, a homicide investigator, told the Houston Chronicle.
Perez told the newspaper the truck looked "pretty beat up," as if it had been in several wrecks. The back left passenger window of the "rusted" vehicle was "busted out," and covered by what appeared to be cardboard, police said.
TEXAS VOLUNTEERS FIND SEVERED HEAD AT LAKE, POLICE SAY
The grisly discovery last month was made as a mother and daughter were cleaning the area around the lake at the time while volunteering for Texas Adaptive Aquatics.
"[We] had 300 volunteers come out to volunteer and one of them found a gun this morning and then about 20 minutes later, someone found a head, a human head," Roger Randall, with Texas Adaptive Aquatics, told FOX26 at the time.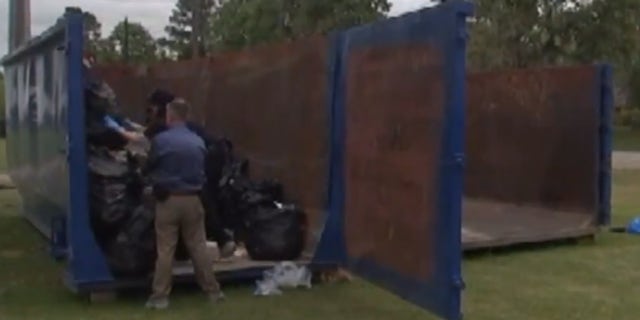 He added, "It was a young lady, her and her mom were out helping cleanup and she was picking the trash and found a bag, a plastic bag and it was pretty heavy and she picked it up and found that it was a human head with hair."
Fox News' Katherine Lam contributed to this report.