Sex offender caught after swiping 7-month-old girl from mother in Virginia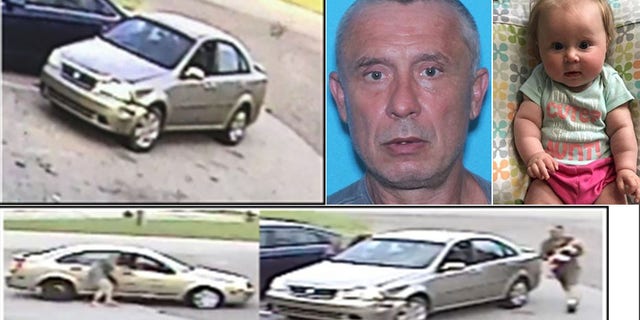 The registered sex offender who abducted a 7-month-old girl in Virginia sparking a massive search over the weekend was caught by police on Tuesday.
Danville Police posted on Twitter that the child, Emma Grace Kennedy, was found safe and her father, 51-year-old Carl Ray Kennedy, is now in custody.
Investigators found the pair on Tuesday in Randleman, N.C., and said the toddler -- who is being evaluated at a local hospital -- appears to be in good health. Her mother has been notified and an Amber Alert issued in the search for her has been canceled.
Police earlier released photos of the vehicle they believed Kennedy was traveling in. Virginia State Police said Kennedy took the girl from her mother after assaulting her with a knife at a Kwik Stop in Danville on Sunday.
"Carl Ray Kennedy was possibly sighted in the area of Seven Springs, North Carolina at around 6:30 PM Monday (June 4) and may possibly be headed to Oak Island, North Carolina," state police earlier posted on Facebook.
Newly-released images from police show the abduction in progress, as Kennedy is pictured walking around a gold 2007 Suzuki Forenza with the toddler in his arms.
Kennedy is registered as a sex offender in North Carolina, and is currently out of jail on a $250,000 bond for drug distribution.
Fox News' Ryan Gaydos and the Associated Press contributed to this report.