Severe weather does damage in DC, tornado reportedly touches down in Virginia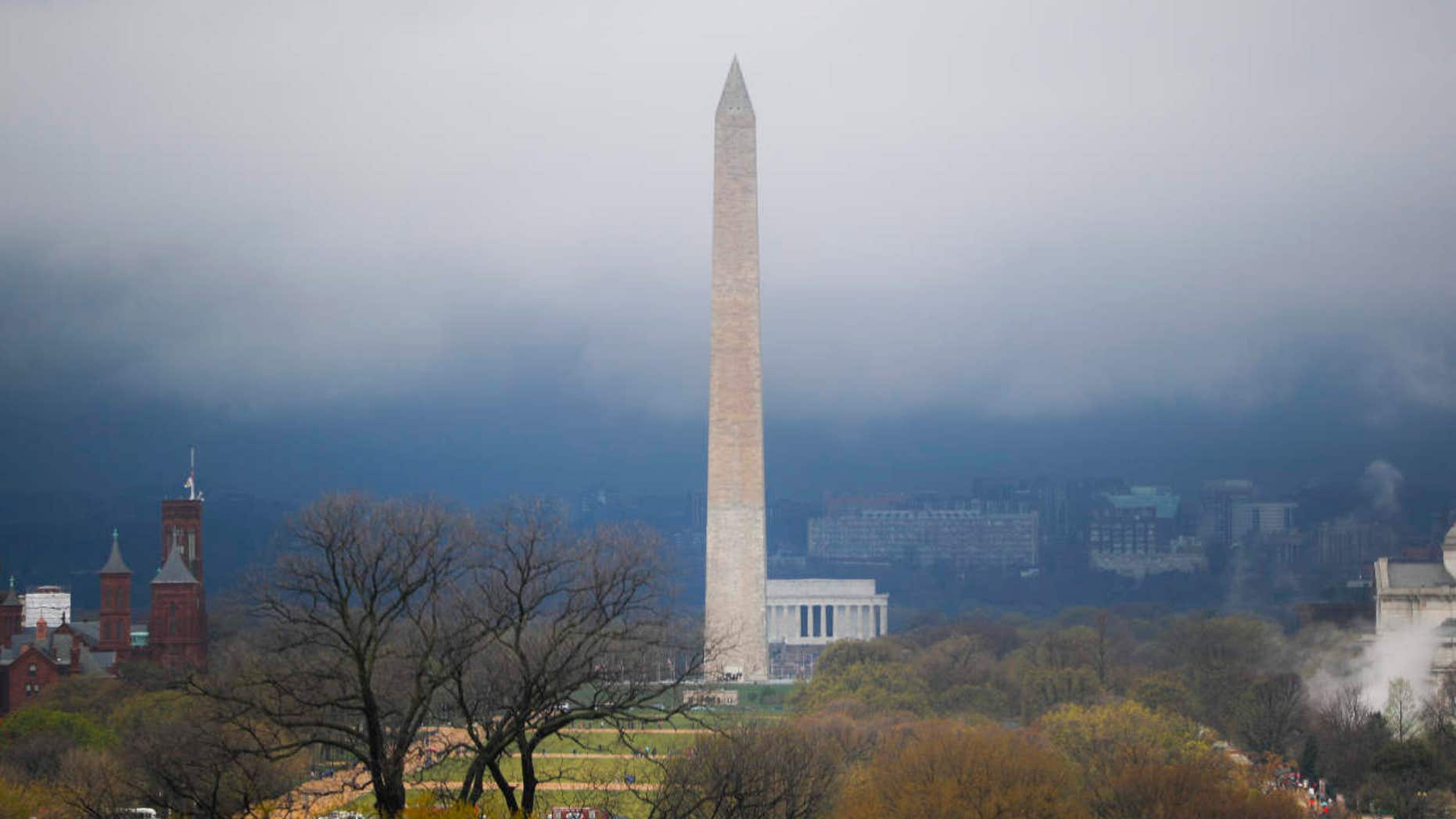 CHARLOTTE – Severe weather that spawned tornadoes and left damage in three Southeastern states headed up the Atlantic coast Thursday, taking the roof off two buildings in the nation's capital and leading forecasters to check a possible tornado in Virginia.
Doug Buchanan, spokesman for District of Columbia Fire and EMS, said authorities were called to Gonzaga College High School near Union Station and to an apartment building in the city's southeastern quadrant. Buchanan said there were no reports of injuries at either scene.
National Weather Service meteorologist Jeff Orrock said investigators were dispatched to the Virginia city of Chesapeake and the towns of Kilmarnock and Irvington, where he said there was a good possibility of a "weak touchdown."
Orrock said investigators will compare damage patterns with radar data before making a determination.
An initial round of storms across the Southeast produced one large tornado and reports of more than a half-dozen smaller twisters. Trees were toppled and power lines were brought down in Georgia, while heavy rains drenched areas of Alabama and South Carolina.
The severe weather outbreak was the second to hit the South in less than a week, but no deaths or significant injuries had been reported as of Thursday afternoon. A round of storms on Sunday and Monday killed five people, including a Mississippi woman who desperately called 911 from a car that plunged into a rain-swollen creek.
Authorities in Johnston, South Carolina, a town of 2,300 that calls itself the peach capital of the world, reported a possible tornado there damaged about a dozen buildings. Crews couldn't immediately check nearby peach orchards but authorities said a hard freeze in late March had already caused severe damage.
Johnston Mayor Terrence Cullbreath said he opened a local armory as a shelter and that lights were out and many streets were blocked by fallen trees. Thousands had lost power across the three states Wednesday, with utilities struggling to keep up.
"We need power back," Cullbreath said by phone. "But there likely are more storms coming and they can't get the power back in bad weather."
In southwest Georgia, a powerful tornado that touched down at midday traveled some distance on the ground in rural Stewart County, National Weather Service Meteorologist Keith Stellman said. It left downed power lines and trees on roads, said Sandra James, a sheriff's office dispatcher.
A suspected tornado touched down in southeastern Alabama, before crossing into Georgia, forecasters said. All told, at least nine possible tornados had been reported across Alabama, Georgia and South Carolina as the day wore on.
In Alabama, the storm hit an area dotted with vacation and full-time homes around Lake Eufaula, damaging some homes and knocking down power lines and trees, said John Taylor with the Henry County Emergency Management Agency. Taylor also reported no deaths or injuries there.