Sage grouse create stir in Nevada neighborhood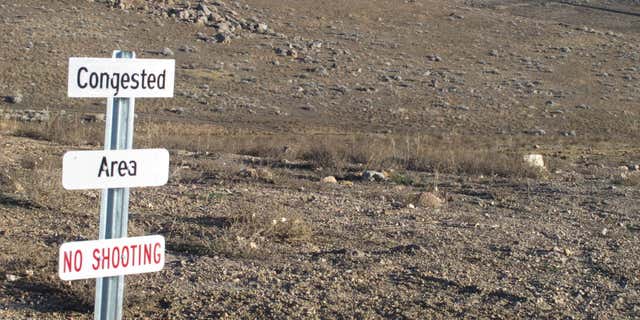 SUN VALLEY, Nev. – One of the first, actual on-the-ground disruptions caused by new U.S. efforts to protect the greater sage grouse isn't on a cattle ranch in Oregon or an oil field in Colorado.
It's in the backyard of a residential neighborhood north of Reno, Nevada, where plans to acquire federal land to build a badly needed school are on hold because the government considers it sage grouse habitat.
On Tuesday in Reno, U.S. District Judge Miranda Du is scheduled to hear from opponents who are suing to block the new regulations. They say the rules will cause more economic harm than if Interior Secretary Sally Jewell had declared the bird threatened or endangered.
Two mining companies and eight Nevada counties claim the land planning amendments announced in conjunction with Jewell's listing decision in September will prevent construction of a $500 million wind project in Elko County and could "run ranchers and mining companies out of business."
But unlike those concerns — which government lawyers call "speculative, at best," Washoe County officials say they are now forced to find an alternative site for a new middle school in Sun Valley. Officials had applied to acquire Bureau of Land Management property in 2008 for the school.
"At this point we appear to be stopped by the sage grouse designation," said Michael Boster, a school district planner.
The plight of the future school — along with a veteran's cemetery proposed on similar BLM land in neighboring Sparks — is putting the spotlight on the regulations and the maps used to implement them.
The suit alleges wild inconsistencies in the areas identified as "priority" habitat critical to protecting the bird, a second tier of "general sage grouse habitat" and a third "other" category largely unaffected by the regulations.
In many cases, the maps don't reflect the reality on the ground, and in some cases, flatly contradict earlier designations made by the Nevada Department of Wildlife. The "general" habitat includes a section of Sparks where busy streets, homes and businesses were built decades ago.
BLM announced on Friday that it is reopening the comment period until Dec. 14 on the land use plan for Nevada "based on protests received and additional internal reviews."
The agency is aware of the Washoe County concerns and "will be working with municipalities, industry and others on a case-by-case basis to address specific projects and identify actions that will preserve and enhance sage grouse habit and provide opportunities for development," BLM spokesman Chris Rose said Friday.
Critics include Washoe County Commissioner Jeanne Herman, a rancher who is on the witness list for Tuesday's hearing. She represents an area bigger than many U.S. congressional districts — some 5,000 square miles stretching to the Oregon border, or about half the size of Massachusetts.
Herman anticipated restrictions on livestock grazing in remote areas but never dreamed they'd extend into the valleys, bumping up against existing development.
"That's all on the map now as serious sage grouse country," Herman said. "If they won't allow us to have a school or a cemetery there, I can't imagine them letting us develop it for anything."
The regulations establish buffer zones as large as 3 miles in diameter around sage grouse "leks," the traditional breeding grounds for the chicken-sized bird whose numbers have dwindled from 16 million to between 500,000 and 200,000 due in large part to wildfires, mining, livestock grazing and other development across 11 western states.
The school site is 12 miles from the closest "active" lek and 5 miles from the closest lek of "unknown" status, according to the Nevada Department of Wildlife.
State Department of Wildlife Director Tony Wasley acknowledged there's no grouse near the proposed school site.
"Strictly from a biological perspective, we certainly don't have concerns in that particular instance," he told AP.
Wasley said more detailed maps from the U.S. Geological Survey are expected next month. The current maps were designed for general planning purposes, he said.
"It was never intended to be the final say, never intended to be the project-scale decider. It is a coarse, guidance map for habitat management categories," Wasley said.
He's hopeful the new maps will address "many of the conspicuous misrepresentations or inaccuracies that are evident."
"If the map shows habitat in an urban setting or in the middle of a playa or on top of a rock covered mountain, we have processes and provisions that allow us to address those things," he said.
Local conservationists argue the BLM lands in question should remain undeveloped - with or without grouse.
"As our community continues to grow it becomes increasingly important to preserve open spaces," said Tom Rich, a Sparks resident who says he's seen mule deer, coyotes, badgers and hawks while hiking and biking at the proposed cemetery site. "Even though it is close to urban areas, the wonderful views of the surrounding mountains and valleys gives it a feeling of escape from urban chaos."