Russian banker pleads not guilty in Cold War-style spy ring case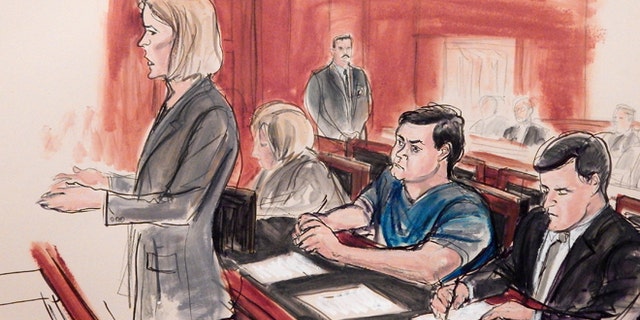 NEWYou can now listen to Fox News articles!
A Russian citizen who worked in Manhattan as a banker pleaded not guilty Wednesday to U.S. charges accusing him of participating in a Cold War-style Russian spy ring.
Evgeny Buryakov, his hands folded on a table before him, entered the plea in Manhattan federal court through his lawyer, Benjamin Naftalis. The only time the 39-year-old Buryakov spoke during the brief proceeding was to acknowledge that he spoke English well enough that a Russian interpreter in the room probably was not needed.
Buryakov, short and stout with combed, slightly wavy chestnut-colored hair and clad in navy-blue prison garb and black sneakers, appeared calm and even smiled a couple of times as he listened to Judge Richard Berman.
Assistant U.S. Attorney Anna Skotko told the judge that the government plans to release unclassified evidence in the case against Buryakov in the next two weeks. "There is classified discovery in this case," she added, for which her team is seeking clearance. The government and the defense asked for 45 days to deal with discovery and other issues in preparation for the next hearing. The next court appearance was set for March 26.
When Fox News asked Naftalis who is paying for his client's representation, he replied, "No comment." Speculation is that Buryakov, a representative at the Russian Bank, VneshEkonomBank in New York, is having the bank foot the bill for legal fees. Naftalis and the Russian consulate representatives also declined comment to Fox's question as to whether a spy swap might be in the planning.
Entry of a plea was required after a grand jury this week returned a two-count indictment saying Buryakov and two others conspired to spy, and acted as spies. Buryakov was arrested Jan. 26.
Prosecutors said that from 2012 through January, Buryakov teamed up with low-level diplomats to gather sensitive economic intelligence on potential U.S. sanctions against Russian banks and on efforts in the United States to develop alternative energy resources.
Prosecutors say they also tried to recruit others as Buryakov met with one of his handlers 48 times in outdoor settings between March 2012 and September. They said potential recruits included several individuals employed by major companies, and several young women with ties to a major university located in New York City.
At the time, Buryakov lived in the Bronx with his Russian wife and two children. Buryakov arrived in the United States in 2010 and secured a work visa.
It's believed the two others who are charged have returned to Russia. They're protected by immunity because of their diplomatic status.
Tass previously reported that Russian diplomats had visited Buryakov in a federal lockup in lower Manhattan and found conditions of his confinement "satisfactory." A Russian spokesman told the news agency that Buryakov "vehemently denies the alleged offenses."
Fox News' Jonathan Wachtel and The Associated Press contributed to this report.