Runaway blimp on the ground and secure in central Pennsylvania, police say
An unmanned blimp that had been floating loose over Maryland and Pennsylvania for over four hours has landed and is secure, the Pennsylvania State Police said Wednesday afternoon.
The blimp, which is longer than a football field, was secured on the ground in Montour County, Pa., NORAD spokesman Navy Capt Scott Miller said during a Pentagon phone briefing.
State police spokesman Bob Reese told the Associated Press it came down in the area of Muncy, about 50 miles west of Wilkes-Barre.
The Baltimore Sun reported that the helium-filled blimp detached from its mooring at Aberdeen Proving Ground in Aberdeen, Md., just before noon.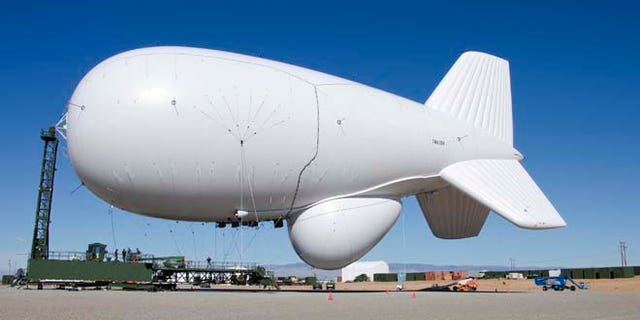 The Air Force said two F-16 fighter jets monitored the blimp as it drifted northwestward into and across Pennsylvania.
It was spotted over Bloomsburg, Pa., dragging its 6,700-foot cable early Wednesday afternoon. The cable reportedly damaged area infrastructure and caused power outages.
Over 18,000 people in the area were experiencing outages, according to regional utility PPL.
The area's representative in Congress said the blimp left "quite a bit of damage" in its path before being secured.
"We're concerned about the safety of the people on the ground across a pretty wide swath of Pennsylvania.  The blimp left quite a bit of damage at ground level in its path...  We're continuing to monitor the situation, but are thankful that something worse did not occur," Rep. Lou Barletta, R-Pa. said.
JLENS is short for Joint Land Attack Cruise Missile Defense Elevated Netted Sensor. The craft looks like a blimp, but the tether technically means it is an aerostat. The craft is the size of a football field and cost about $180 million.
The system featured two, unmanned aerostats, tethered to concrete pads 4 miles apart. They were intended to float at an altitude of about 10,000 feet, about one-third as high as a commercial airliner's cruising altitude.
One balloon was designed to continuously scan in a circle from upstate New York to North Carolina's Outer Banks, and as far west as central Ohio.
The other was meant to carry precision radar to help the military on the ground to pinpoint targets. The craft can stay in the air for up to a month at a time and has a high-definition 360-degree radar capable of monitoring 340 miles in any direction.
A storm near the JLENS program's test facility Elizabeth City, N.C., in 2010 caused a civilian balloon to break loose from its mooring and destroy a grounded JLENS blimp.
Fox News' Jennifer Griffin, Chad Pergram, and the Associated Press contributed to this report.