Response to Boston bombing to be reviewed by police and city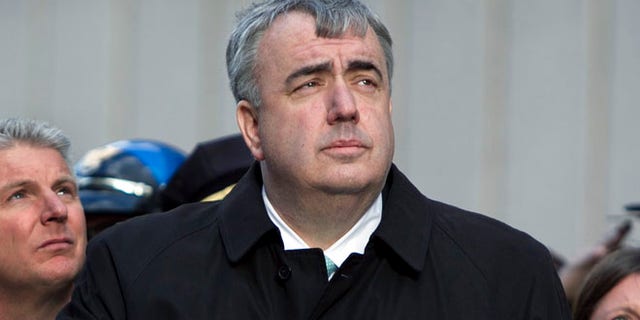 Boston's police department and mayor's office will conduct twin reviews of the response to last month's bombing of the Boston Marathon, police commissioner Ed Davis said Saturday.
Davis said the aim of the reviews is to learn from the experience and prepare for the future.
"We are very anxious to get those reviews under way and learn lessons from anything that might pop up as an issue of concern," Davis said. "I expect that this whole year will be a time of review and reflection on what happened."
Davis addressed reporters after delivering the commencement address at the University of Massachusetts Lowell. The event occurred a little more than a month after the April 15 bombings that killed three people and wounded more than 260. The attacks made Davis a national figure.
He said one review, of all of the city's response services, will be conducted under the leadership of Mayor Thomas Menino and his office of Emergency Management. The second investigation will look at best practices and will be funded by the U.S. Department of Justice Office of Community Oriented Policing Services.
"I fervently hope that each of these reviews help us learn more about our emergency services and will allow us to better prepare for other large-scale events in our future," Davis told hundreds of graduates, their families and faculty.
He couldn't immediately say when the investigations will start, only that he expects them to take "a few months." He did not know how much they are likely to cost.
Davis indicated that the bombings have changed the perspective of the city police department. He noted that ahead of the July 4 celebration in Boston, police officers will travel to New York City for additional training on securing large-scale public events.
Davis says he is continuously asked what he learned from the bombings and following days.
"I learned to think the unthinkable," he said. "I learned that the most horrific of circumstances can produce the most inspirational and heroic of actions, not just by one single person, but by hundreds of them."
Davis said Boston police Officer Tom Barrett used his hand to put out the flames of a person set on fire by one of the blasts. He also named Jeff Bauman, the bombing victim who provided a description of one of the bombers after having his legs blown off, and the man who helped Bauman into a wheelchair.
The 57-year-old Davis received an honorary Doctor of Humane Letters. Nearly 3,200 students received degrees.
Davis is a Lowell native who began his police career as a patrolman in the city. He rose through the ranks and ran its police department for 12 years until being named commissioner in Boston in 2006.
He told the graduates that lessons he learned over the years were valuable in the aftermath of the April 15 bombings.
"If you take away nothing else from my remarks today, you must realize that every single day for the rest of your life is going to provide a learning opportunity for you," Davis said. "Many of you believe that when you leave this arena today with your UMass Lowell diploma in hand your days of learning are over ... you're only getting started."