Rescuers Who Saved Ohio Woman From Burning Vehicle Sue Her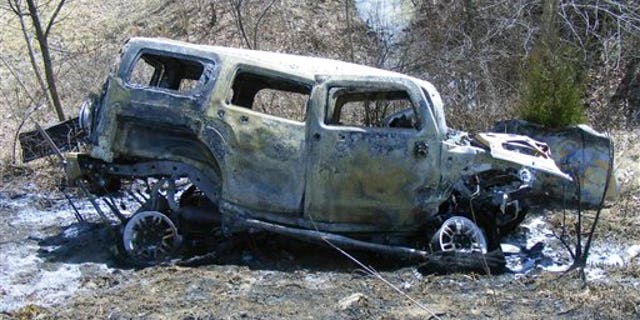 MARION, Ohio – Two men honored as heroes for rescuing a woman from her burning sport utility vehicle after it crashed have sued her, claiming they're physically and emotionally scarred.
The lawsuit, filed in central Ohio's Marion County by David Kelley and Mark Kincaid, seeks damages in excess of $25,000 for each man and claims that Theresa Tanner was at fault and that saving her life left the men with disabling injuries.
Kelley said the smoke and fire damaged his lungs so much that he can no longer carry a laundry basket upstairs in his home, The Columbus Dispatch reported.
The lawsuit, filed March 10, doesn't list an attorney for Tanner, who was critically injured in the crash but survived. No telephone listing for her in Marysville, the most recent address in court records, could be found Monday.
Her husband said the family wasn't commenting, the Dispatch reported.
Kincaid and Kelley were driving a truck south on U.S. Route 23 just southeast of Marion on March 11, 2009, when they saw debris on the road and smoke coming up an embankment, Kelley told the state Highway Patrol in a statement.
Kelley told investigators they pulled over and saw a Hummer engulfed in flames and a few people who were trying to get Tanner out of the vehicle but couldn't get the door open.
The woman in the front seat was "yelling for help and could not move," Kelley said. He stated he "saw the fire melting her hair" before he pulled her out the rear door.
"I could not breathe from smoke, and Mark carried her up the embankment away from the fire to safety," Kelley said.
He told the Dispatch the sounds of Tanner screaming and the sight of her hair melting to her head still haunt him.
"There isn't hardly a night that goes by that I don't wake up in a sweat -- that image in my mind," Kelley, a 39-year-old Marion truck driver, told the Dispatch.
The intense flames burned hair from Kelley's body and melted the cellphone in his pocket, he said.
Kelley did not immediately return calls from The Associated Press on Monday. Kincaid declined to comment when reached by telephone. Messages were left Monday for their attorney, Robert Wilson.
The Highway Patrol report of the crash indicated that Tanner, 28, told authorities that she had wanted to end her life that day after an argument and had crashed into a bridge guardrail. Tanner also told investigators she didn't remember anything after that, according to the report.
The lawsuit claims that Tanner operated her vehicle "intentionally and/or recklessly and/or negligently," resulting in the vehicle crashing and catching on fire. It claims that Kelley and Kincaid received "severe bodily injuries" as a result of Tanner's actions and that "all or some of these injuries are permanent in nature resulting in permanent disability."
The Highway Patrol honored Kelley and Kincaid for the rescue in an April 16, 2009, ceremony, and the commander of the Marion post at the time of the crash told the AP that the lawsuit was a surprise.
"That's the first time in my experience that I've heard of people going back and suing the person they rescued," patrol Lt. Chuck Jones said Monday.
He said he still believes the men needed to be honored for their bravery.
"I'm almost 100 percent certain that she would have perished in the fire if they had not pulled her from the vehicle," said Jones, who's now a criminal patrol commander in the Columbus area.