Remains of 17 service members recovered from decades-old Alaska Globemaster crash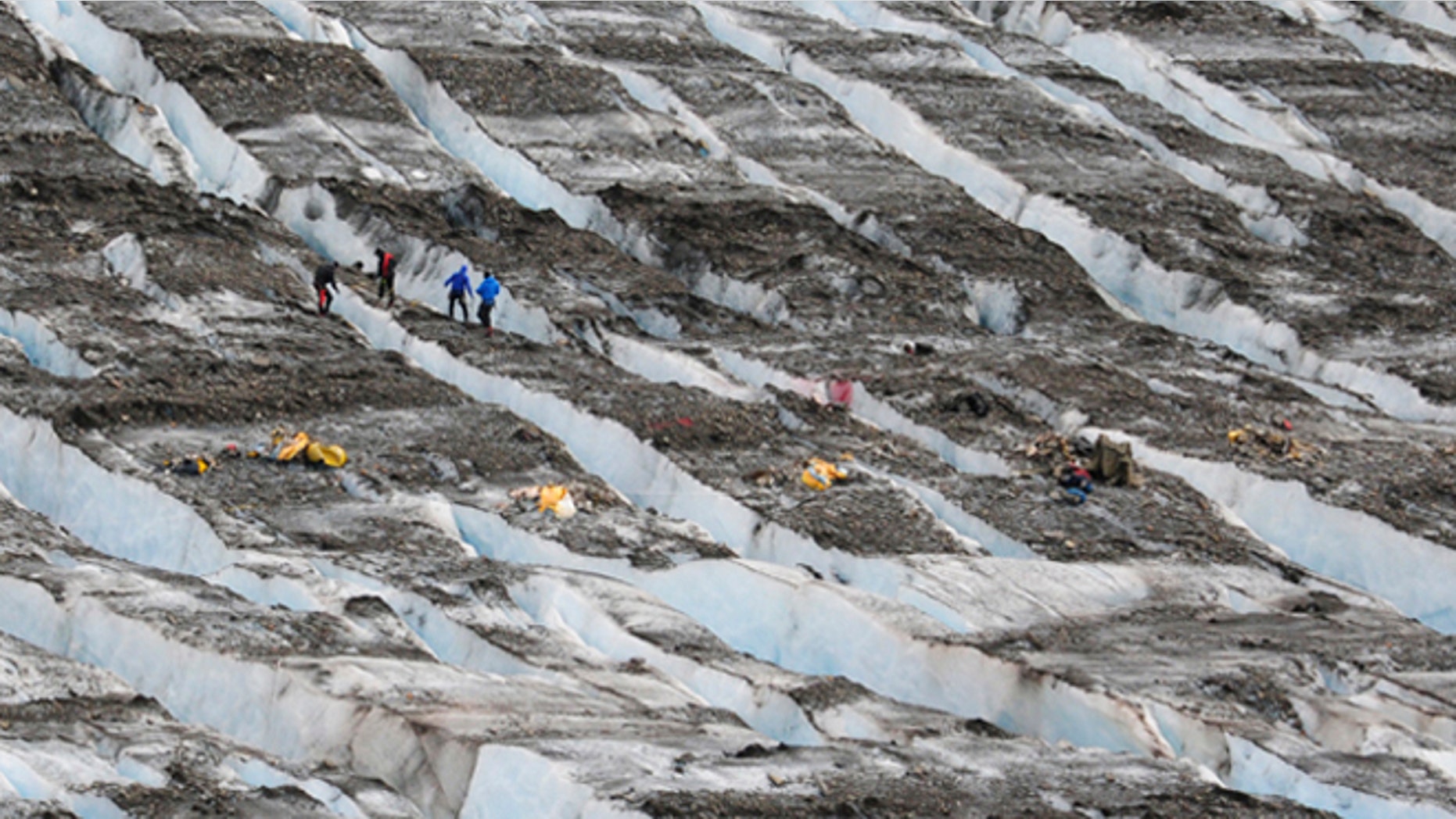 The U.S. Department of Defense announced Wednesday that the remains of 17 service members who died in a 1952 Globemaster crash on the side of an Alaskan glacier were recovered and are being sent home to their families after being lost for more than six decades.
An Alaska National Guard Blackhawk helicopter spotted the wreckage two years ago emerging from the side of the Colony Glacier, which is about 50 miles east of Anchorage. Days later, a military operation was conducted to recover items from the site, and possible future recovery expeditions may continue.
The plane, which was carrying 52 people, crashed on Nov. 22, 1952, during a flight from McChord Air Force Base in Washington state. It became buried in snow and likely churned beneath the surface of the glacier for decades, the Army said.
An Associated Press report days after the crash said the Globemaster was the third big Air Force transport plane to crash in Alaska that month and the sixth around the Pacific Rim.
Soon after the crash, a military team tried three times to make it to the site, but was thwarted by bad weather, Tonja Anderson, whose grandfather was on board the flight, told the Associated Press in 2012.
After returning from the site, Terris Morris, a civil air patrol member and president of the University of Alaska, told reporters that the plane "obviously was flying at full speed" when it hit Mount Gannett, sliding down the snow-covered cliffs, exploding and disintegrating over two or three acres.
Only the tail and flippers of the craft were intact, but the tail numbers were enough for an identification. Moore said blood was found on a piece of blanket and there was a "sickly-sweet smell of death."
Reuters reported that beside the human remains collected at the site in 2012, searchers found a mini-box of Camel cigarettes, a survival suit and a hockey puck. In all, military personnel removed about 1,800 pounds of debris.
Scientists from the Armed Forces DNA Identification Laboratory used forensic tools to identify the service members.
The department identified the recovered remains belonging to Army Lt. Col. Lawrence S. Singleton; Army Pvts. James Green Jr. and Leonard A. Kittle; Marine Corps Maj. Earl J. Stearns; Navy Cmdr. Albert J. Seeboth; Air Force Cols. Noel E. Hoblit and Eugene Smith; Air Force Capt. Robert W. Turnbull; Air Force 1st Lts. Donald Sheda and William L. Turner; Air Force Tech. Sgt. Engolf W. Hagen; Air Force Staff Sgt. James H. Ray; Air Force Airman 1st Class Marion E. Hooton; Air Force Airmen 2nd Class Carroll R. Dyer, Thomas S. Lyons and Thomas C. Thigpen; and Air Force Airman 3rd Class Howard E. Martin.
They will receive a burial with full military honors, the department said.
Fox News' Edmund DeMarche and The Associated Press contributed to this report