Records: Driver in fatal Ill. van wreck had license suspended for administrative reasons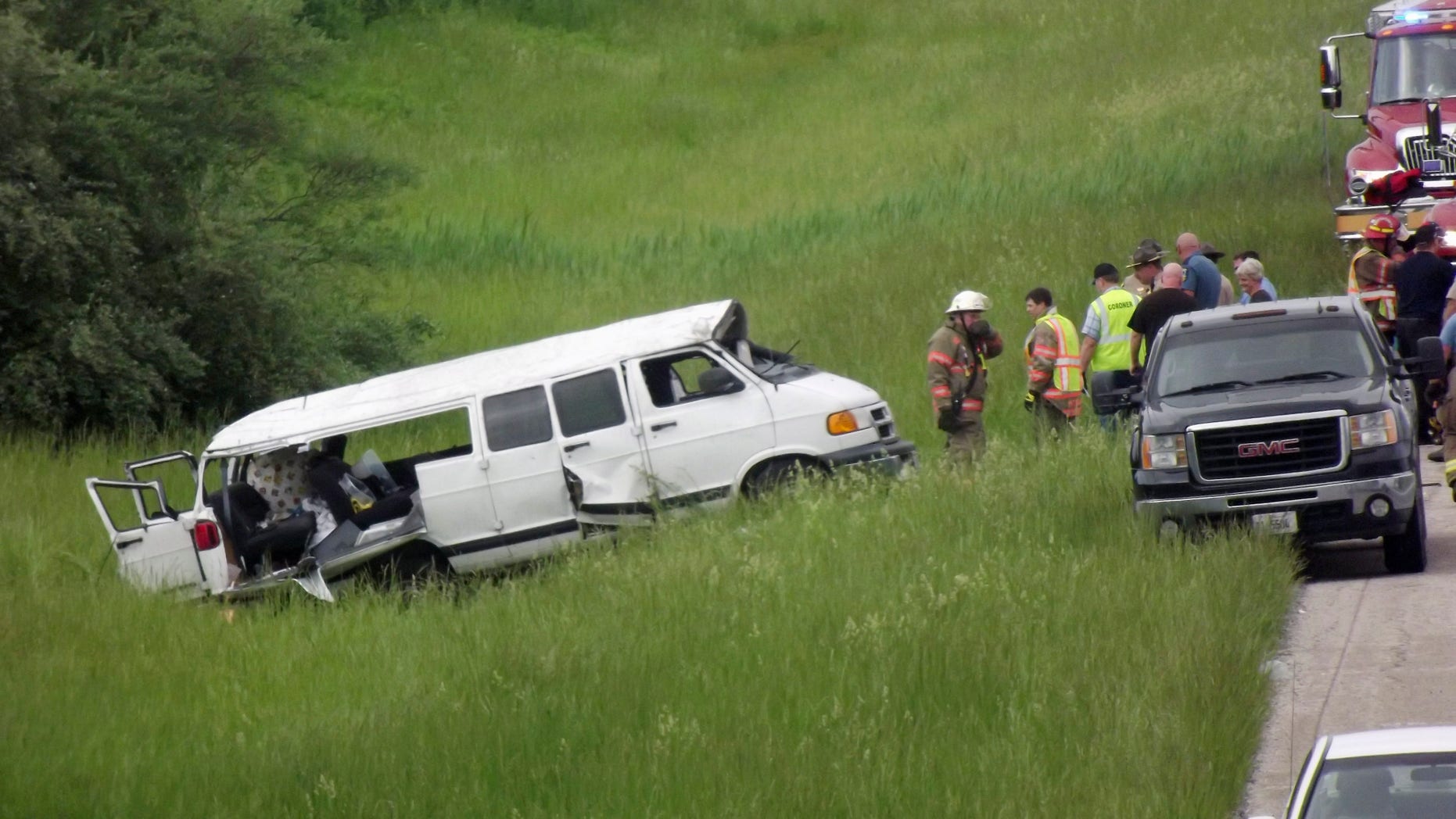 ST. LOUIS – A New Jersey man behind the wheel of a van that overturned on an Illinois freeway, killing five passengers returning from a California ministry gathering, had his driving privileges suspended last year for administrative reasons, motor vehicle records show.
Illinois State Police have refused to publicly identify the driver ticketed for improper lane usage and driving with a suspended license Monday's wreck on Interstate 70, citing an ongoing investigation a spokeswoman said could take weeks. However, The Associated Press obtained that citation, which was issued to 45-year-old Malcolm Purnell of Paterson, N.J. Public records suggest Purnell now lives in Camden, N.J.
The state's attorney in Illinois' Fayette County, Joshua Morrison, said no criminal charges have been filed in the wreck, which killed five Baltimore men near Vandalia, Ill., about 70 miles east of St. Louis.
The 11 occupants of the 15-passenger van were members of an evangelical Christian church returning from a weeklong international conference in Ontario, Calif., near Los Angeles, when the vehicle inexplicably careened off of the interstate and flipped several times, ejecting nine of the men.
At least two of the men, including Purnell, apparently had criminal backgrounds, possibly making the ministry work redemptive. Purnell has done prison time in New Jersey on a robbery conviction, and one of those killed in the wreck — Emerson Baldwin, 54 — had a criminal past stretching from a disorderly conduct conviction in 1986 to a drug possession one in March of last year, court records show. Baldwin was sentenced to 10 months in prison after being convicted in a 2009 drug-possession case, according to Jane Loving, the Baltimore attorney who represented him.
"Maybe he had turned his life around," Loving said this week of Baldwin, who in 2009 had two children and was working as a demolition company's steel cutter. "If he was with a church group, maybe that's a good sign."
Purnell, among the six passengers who survived, was released Wednesday from the hospital and has not responded to repeated AP requests for an interview. Messages left with his relatives also were not returned Thursday.
Purnell's driver's license was suspended last year by a court after he failed to resolve insurance issues and did not make three required payments to get his driving privileges restored, New Jersey Motor Vehicle Commission records show. Purnell tried to fix the problem by frequently calling, writing and faxing the commission, according to the records.
Purnell's license also was suspended briefly in 2002 after falling behind on child support, though he has had no actual driving-related violations over the past decade or so, the driving records show.
Purnell and others in the van were members of Victory Outreach International of San Dimas, Calif., which works largely in inner cities and provides residential alcohol and drug rehabilitation in many locations, the church's overseer for Christian recovery said this week. Philip LaCrue added that the victims were returning from the yearly Mighty Men of Valor convention, which the church's website says helps men find spiritual direction and their role in the church.
Calls and emails Thursday to the Victory Outreach church and pastor in Baltimore were not immediately returned.
Purnell was sentenced in 1993 to a 20-year sentence for robbery and was paroled in 1998 before being returned to lockup eight years later after violating conditions of his release, New Jersey Department of Corrections spokeswoman Deirdre Fedkenheuer said. Purnell eventually was released for good behavior in early 2007, she said.
Purnell's criminal record also includes earlier convictions of theft and forgery, Fedkenheuer said.