Purple Heart mystery solved: War hero's family reunited with medal missing for decades
A Purple Heart medal found along a road in Nyack, N.Y., nearly a decade ago was reunited Sunday with a war hero's family.
Relatives of World War II Staff Sgt. Bernard J. McNamara were presented with the award Sunday morning by Sen. Charles Schumer, D-N.Y., following a nationwide search to identify the rightful owner of one of the highest military honors awarded to those wounded or killed in action.
"My father was such a quiet and humble man," McNamara's daughter, 67-year-old Catherine Birong, told Fox News.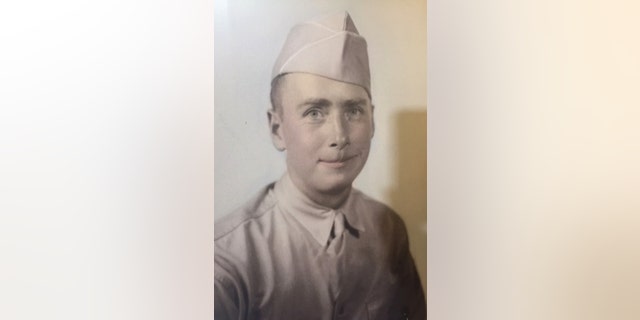 "He certainly deserves this recognition," she said of her father, who died in 1975 and who is buried in South Burlington, Vt. "My family is overwhelmed."
McNamara — who was orphaned as a boy in New York City — became a staff sergeant in the U.S. military and was wounded during combat operations in Italy in World War II. He was then captured and held as a POW in Nazi Germany for 18 months, according to his military discharge papers.
PURPLE HEART MYSTERY: SEARCH UNDERWAY TO IDENTIFY OWNER OF LOST MEDAL
How the prestigious medal disappeared and later ended up decades later in gravel along a road in central Nyack — a New York City suburb — is not known. But Birong has a theory: One day, in the early 1960s, her mother gave McNamara's military gear and medals to some young cousins playing at the family home in the Bronx.
"The children were getting antsy," said Birong. "And my mother — a funny and generous woman — gave them my dad's military hats and medals and said, 'Now go pretend you're a soldier.'"
"That was the last time I recall seeing my dad's Purple Heart," said Birong, noting that her cousins lived in Rockland County not far from where the medal was later discovered. "My cousins probably took it home with them."
McNamara later relocated to Vermont with his wife, daughter and son, Brian McNamara, a Vietnam veteran. The elder McNamara died in 1975 after a battle with colon cancer, his family said.
On a spring afternoon nearly a decade ago, an elderly man named Joseph "Dusty" Ridlon was walking a friend's dog along a street in Nyack when he picked up a shiny object on the ground covered in sand.
What happened next stunned him. There, in his hand, was a Purple Heart medal — its purple ribbon nearly disintegrated. The medal had the likeness of George Washington on its front and an inscription on its back reading, "For Military Merit," and "B.J. McNamara Dec. 9, 1943."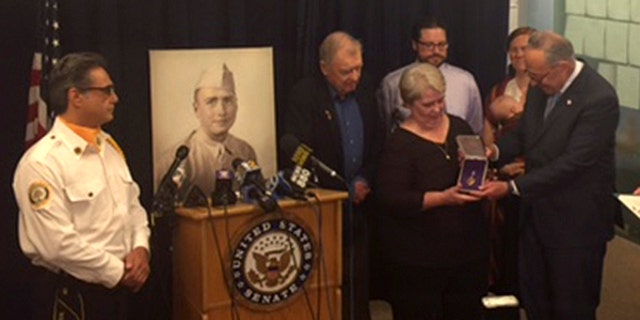 Ridlon told Fox News he had tried to locate the owner himself before tucking the medal into a box for years and forgetting about it. When Ridlon recently cleaned out his home, he gave the medal to a friend who then turned it over in early July to Anthony DelRegno, a former Navy corpsman and post commander of the C.R. and R.O. Blauvelt American Legion Post 310 in Nyack.
"I knew immediately it was a real Purple Heart," said DelRegno, who summoned the help of military historians as well as Schumer's office to help find the medal's owner.
The Purple Heart is the oldest award still given to combat-wounded veterans of the U.S. military. The award – established by George Washington and originally called the Merit Badge – has been given nearly 2 million times to recognize the sacrifice of combat-wounded veterans.
There is no national database for all Purple Heart recipients, though various military organizations have been instrumental over the years in helping to reunite lost or stolen Purple Hearts with their owners or families. In 1973, a disastrous fire at the National Personnel Records Center destroyed approximately 16 to 18 million military personnel files – some of them Purple Heart recipients.
Schumer's search eventually narrowed down to about 12 individuals in the U.S. with the last name "McNamara" whose first initials were also B.J. When Schumer's office learned that Birong's father was deceased, they tracked down his next of kin — eventually contacting his grandson, Matthew Birong.
At a press conference on Sunday in New York City, the family was presented with the Purple Heart by Schumer who called the final outcome a "storybook ending." He lauded McNamara as a part of "America's greatest generation." Schumer also gave the family two additional awards that have been reissued to McNamara, the Bronze Star Medal and the Infantryman Badge.
"To have this Purple Heart returned to us after so many years is incredibly special," Matthew Birong told reporters. "This was a piece of who my grandfather truly was."