Price gouging, looting and rage: Superstorm Sandy brings out the worst in some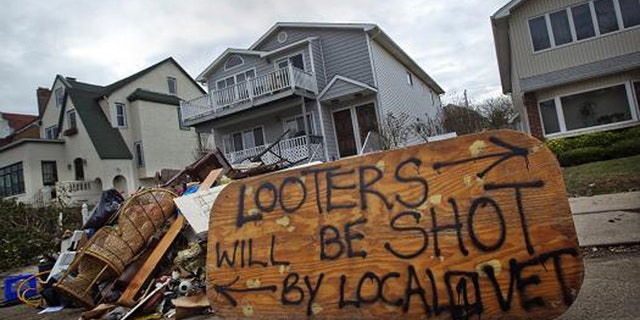 Superstorm Sandy exposed the true nature of the people in its path, bringing out tales of hope and heroism -- as well as stories of callous cruelty.
Looting, price gouging and misguided rage all compounded the unprecedented storm, and left many folks shaking their heads and wondering just how low people could sink. Gas was siphoned from cars, criminals posed as relief workers, cruel thieves picked through the unprotected possessions of neighbors who had lost nearly everything. Utility crews working around the clock to restore power to citizens were even assaulted by angry residents.
Experts say it's an unfortunate, but common pattern in the wake of a disaster.
[pullquote]
"In a disaster situation, people aren't sure what the norms are," said Jason Nier, a professor of social psychology at Connecticut College. "People may look to what others are doing in determining what their behavior may be."
Some of the worst looting came in the areas hardest hit, where victims had the least means of protecting themselves and their possessions. In the Coney Island section of Brooklyn, bandits ransacked a drugstore, making off with thousands of pharmaceutical items late last week. In Queens, 15 people have been arrested for looting so far, and in the Rockaways, the Queens neighborhood on the Atlantic shore, there have been numerous reports of looting and robberies.
Most loathsome, perhaps, were reports of people posing as FEMA and utility workers to gain entry into homes, then sticking up residents.
The gas shortage also brought out the worst in people. Long lines at gas stations prompted fights, and in Queens, one man was arrested after allegedly pulling a gun after other customers objected to him cutting in line. There were scattered reports of gas stations jacking up their prices, and some people were selling gas on Craigslist for up to $20 a gallon. State troopers were quickly deployed to gas stations in New Jersey and police were seen at New York filling stations.
A Staten Island man was arrested after he was caught hoarding gas after he filled up 30 five-gallon buckets with fuel from a station in upstate Orange. The man intended to bring the buckets of gas back to his Richmond Hill neighborhood where neighbors desperately needed it for cars and generators.
In addition to gas, hotel rooms, batteries and generators were going for well above their regular prices as desperate victims scrambled to survive. New York Attorney General Eric Schneiderman vowed to launch an investigation after receiving hundreds of complaints about inflated prices at supermarkets, hardware stores and gas stations.
"Our office has zero tolerance for price gouging," Schneiderman said. "We are actively investigating hundreds of complaints we've received from consumers of businesses preying on victims of Hurricane Sandy, and will do everything we can to stop unscrupulous individuals from taking advantage of New Yorkers trying to rebuild their lives."
In Bridgeport, Conn., residents pelted utility crews with eggs after they were riled up by comments made by that city's mayor, Bill Finch, claimed that the local power utility had "shortchanged" the city. Crews only agreed to go back to work after the city provided police protection.
Still, Nier said the area hasn't seen the rampant crime that followed such disasters as Hurricane Katrina, which hit New Orleans in 2005.
"It seems like there haven't been widespread incidents of looting or people doing unsavory things," Nier said.