Powerful Texas Tornadoes Damage 100 Homes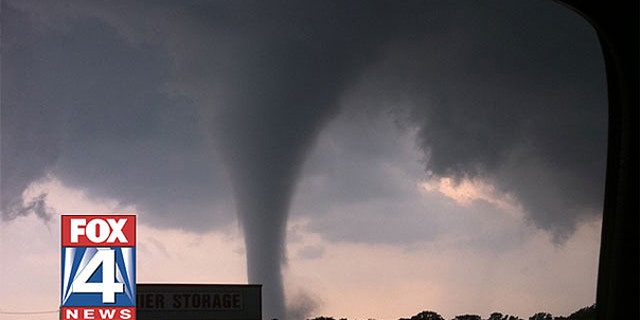 EDOM, Texas -- An outbreak of tornadoes left widespread damage and at least one person injured Tuesday as savage thunderstorms plagued East and Central Texas for a second consecutive day.
Witnesses said a tornado slammed through a rural area 75 miles east of Dallas near the tiny East Texas town of Edom.
"We have major destruction," said Investigator Chuck Allen, Van Zandt County emergency management spokesman. "We have multiple houses damaged or destroyed ... easily 100-plus."
One person was injured, he said. A woman suffered fractures when her mobile home was destroyed in Edom, said Fire Chief Eddie Wood.
The tornado left a one-mile-wide, eight-mile-long path of destruction from Edom north, Allen said.
Severe damage to trees and to roof shingles was reported after a series of tornadoes struck Mabank, a town of about 3,400 residents about 50 miles southeast of Dallas, said Police Chief Kyle McAfee. Shoppers at the Brookshire's supermarket in Mabank sought shelter in a walk-in freezer until the danger passed, KDFW-TV of Dallas-Fort Worth reported.
After striking East Texas Tuesday afternoon, the storms continued late into Tuesday night in Central Texas. More than a dozen tornadoes were reported in those areas.
While the violent weather is not unusual for a Texas spring, the duration of it is, National Weather Service meteorologist Eric Martello said.
Numerous different elements are combining to cause the storms, including a stagnant weather pattern with moist air and an upper level disturbance, Martello said.
"Basically, we're in a particularly dangerous situation weather-wise," he said.
There also were scattered reports of high winds and hail around the region.
The storms struck even as authorities were still surveying the damage left by the weak twisters in Ellis and Navarro counties just south of Dallas and Fort Worth when tornado warnings were issued Tuesday evening for the same areas.
There also were scattered reports of high winds and hail around the region.