Police: Man fatally shot mother after Los Angeles house fire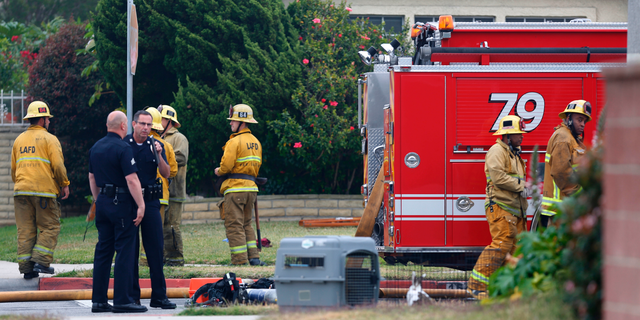 LOS ANGELES – A man fatally shot his mother at the scene of a house fire early Tuesday morning, sending firefighters scrambling for cover behind their fire trucks, before holing himself up for two hours inside the burned home south of downtown Los Angeles, authorities said.
Firefighters were called to the two-story home around 4:30 a.m. and saw smoke billowing out of several windows, Fire Capt. Erik Scott said. They quickly extinguished the blaze, but about 15 minutes later, gunshots rang out, Scott said.
"Our firefighters actually had to shield themselves behind their own apparatus," he said.
Fire crews noticed the 50-year-old woman lying on the ground outside of the home and tried to provide medical help, but she was pronounced dead at the scene, Scott said.
The suspect, who police believe is the victim's son, retreated back into the home, said Sgt. Frank Preciado, a Los Angeles police spokesman. Police and sheriff's deputies set up a perimeter and evacuated nearby homes during the standoff, which lasted about two hours.
The 25-year-old man, whose name wasn't immediately released, surrendered to police around 7 a.m., Preciado said. He appeared to have a self-inflicted gunshot wound when he was taken into custody and was brought to a hospital in critical condition, the sergeant said.
Four adults and a child were displaced by the blaze, and the American Red Cross was sent to assist them, according to fire officials.