Police got 911 calls before man killed at homeless shelter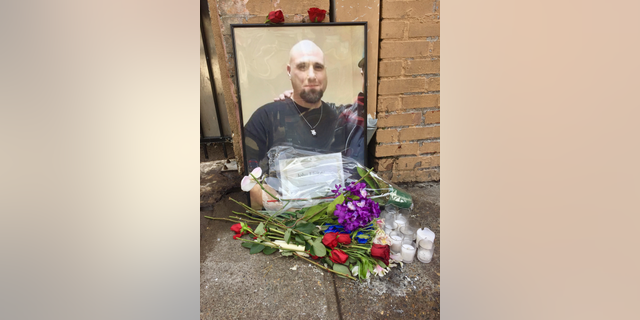 PORTLAND, Ore. – David Abbs was sitting in his wheelchair inside a Portland, Oregon, homeless shelter when a shirtless man burst in, grabbed a jacket from a donation bin and dashed outside.
The man ran back in and tried to cut himself with a knife before officers fired bean bag rounds at him, Abbs recalled Monday. Moments later, police shot John Elifritz dead as stunned witnesses looked on.
Seven officers and one sheriff's deputy were involved in the Saturday night shooting, police said Monday. Elifritz, who had a long criminal history, prompted multiple 911 calls with his menacing behavior earlier that day and carjacked a vehicle that he crashed outside the shelter, authorities said.
Cellphone video shot by a bystander and posted on social media shows people scrambling and swearing as Elifritz stumbled around the shelter and nearly 20 officers rushed in. He did not live there, and residents and officials didn't know him.
The video led the American Civil Liberties Union and Elifritz's brother to question whether police moved too quickly to use deadly force before trying to de-escalate the situation.
"In less than a minute, officers shoot and kill the man, while members of an already traumatized population, Portland's homeless community, watch in horror," David Rogers, executive director of the American Civil Liberties Union of Oregon, said in a statement.
Portland is among the West Coast cities struggling to cope with a rising tide of homelessness, and its police agency has been criticized for fatal shootings and other deaths at the hands of officers. A 2012 government investigation found that officers engaged in a pattern of excessive force against people who are mentally ill.
Police Chief Danielle Outlaw and Mayor Ted Wheeler asked the public to withhold judgment until the investigation is complete.
"Already, there are those who want to immediately define what happened," Wheeler said. "It would be highly irresponsible for me to participate in speculation at this time. I urge us all to allow investigators to do their work, to uncover the facts, and to report on their findings."
Police said they fielded multiple 911 calls about Elifritz before the shooting. He called police himself to report his family had been murdered but officers determined his family was safe, the statement said.
Officers later found him and tried to approach, but he held a knife to his throat and ran away.
In the following hours, he tried to carjack one person, carjacked another, threatened a different driver in a road rage incident and jumped from the stolen car as it was still moving, the police said.
Other callers reported that Elifritz held someone at knifepoint briefly after he jumped from the car, then stood in a storefront for 10 minutes near the shelter with a knife.
Abbs, who is homeless and can be seen in the cellphone video, said two officers entered and fired bean bag rounds that knocked Elifritz down. He got up, and other officers rushed in.
The video shows Elifritz across the room from police and partially obscured by a low wall. He appears to hesitate as witnesses scatter, then stumbles forward and falls a split second after multiple shots ring out.
Abbs did not see the shooting because officers blocked his view, but he said he heard eight gunshots.
Police didn't say how many shots were fired and didn't release the names of the officers "due to threats made regarding their safety," the statement said. An investigation of the threats will be done before their identities are made public. Twelve other officers there did not shoot.
The case will go before a grand jury, according to the Portland Police Bureau, whose officers do not wear body cameras.
David Elifritz told The Oregonian/OregonLive that he wonders why police didn't use a stun gun on his brother.
"You see the video and you think cops are supposed to be trained to handle this," David Elifritz said. "There's quite a space between him and the officers."
He said his parents adopted John Elifritz and John's brother as kids, initially taking them in as foster children. The boys' biological mother died in a car crash and their biological father went in and out of their lives, David Elifritz said.
He told the newspaper that he last saw his brother a week ago and that John Elifritz didn't share much about his life but seemed to be doing all right. He did not return a call from The Associated Press.
Court records show John Elifritz had a criminal history dating to his teenage years, with car theft a frequent offense in his 20s. His most recent conviction was in 2013, when he pleaded guilty to reckless driving and attempting to elude a police officer.