Picture of North Carolina kids reciting pledge goes viral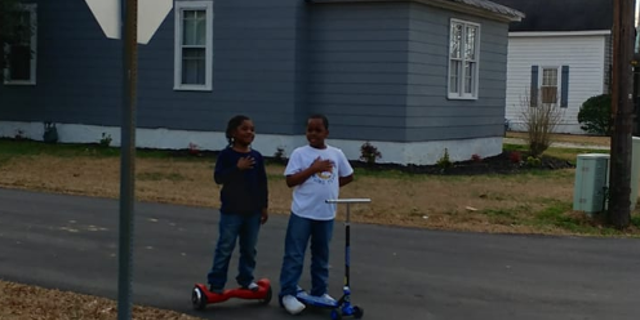 A picture of two North Carolina boys honoring the American flag as it was being hoisted by a fire department has gone viral.
The Roseboro Fire Department posted the picture on its Facebook page on Friday. It shows two young boys standing at an intersection with their hands over their hearts.
"This afternoon as Chaplain Herring was raising the U.S. flag to full staff, he looked over to the intersection and saw these two young people standing there with hands on their heart saying the pledge of allegiance. Permission was granted to use this picture that was hurriedly taken. God bless our community," read the department's post.
The picture has elicited a wave of laudatory comments, with people commending the boys for showing respect, according to The Charlotte Observer.
PICTURE OF DAD, STEPDAD WITH DAUGHTER BEFORE FATHER-DAUGHTER DANCE GOES VIRAL
"The fact that they stood there showing respect without being prompted to do so says a lot about how they are being raised," read one response. As of Tuesday morning, the post has been shared more than 4,000 times and has received more than 400 comments.
The boys were identified as Derrick Tyron Ingram Jr. and Thomas Edwards Jones Jr., by The Observer. The boys' families are reportedly very proud of them. Roseboro is a sparsely populated town, about 25 miles east of Fayetteville.