Philadelphia police officer dies after being shot in head at video game store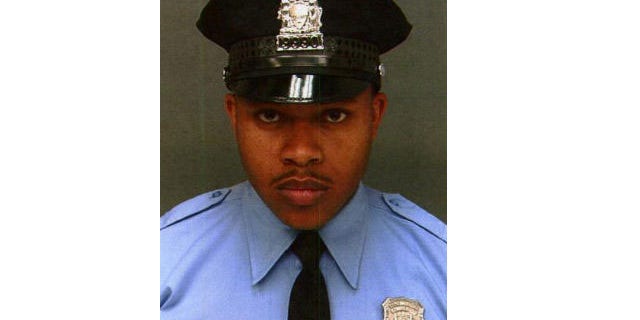 A Philadelphia police officer was shot in the head and killed during a violent confrontation with two suspects inside a video game store Thursday afternoon, MyFoxPhilly reported.
Officer Robert Wilson III was shot inside a GameStop around 4:40 p.m. ET, MyFox reported.
Wilson and Officer Damian Stephenson were checking the store in crime-plagued North Philadelphia. GameStops throughout the city have been recent targets of criminals.
The two men entered the store while the officers were inside, and announced it was a robbery. The officers engaged the suspects, who began firing at them. Wilson continued to fire at the suspects even after being shot, the Associated Press reported.
Wilson was rushed by fellow officers to nearby Temple University Hospital where he died.
Police Commissioner Charles Ramsey held a meeting with officials at the hospital, and the department later tweeted a message asking for prayers.
"Prayers for our officer-- Philadelphia's officer-- who was shot while protecting all of us," the message read.
His survivors include a 9-year-old son and 1-year-old child, Ramsey said.
Ramsey, red-eyed as he spoke at an evening news conference, said he had met the 30-year-old Wilson and his partner when they took part in a recent pilot program in which officers wore body cameras.
"I knew him, had met him. He was one of the best police officers this city has to offer, period," Ramsey said, standing beside the mayor, the district attorney and other city officials.
"This 9-year-old is going to grow up without a father because of what happened today," Ramsey said. "This 1-year-old is going to grow up without a dad."
Wilson was an eight-year veteran of the department.
"Our thoughts are with the officer," said Joey Mooring, director of public relations at the Texas-based GameStop.
"Too many times individuals engage in aggressive activity with people who already put their lives on the line each and every day," Mayor Michael Nutter (D) said of the incident.
The Associated Press contributed to this report.