Philadelphia considers removing statue, mural of former mayor Rizzo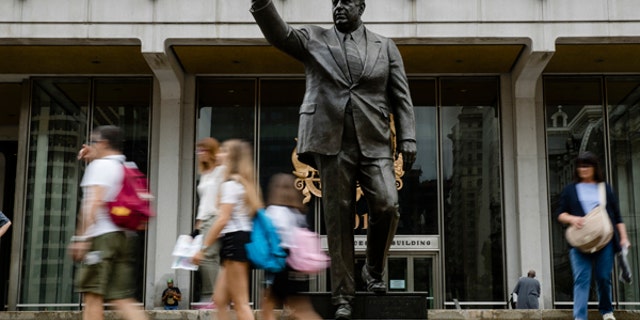 As cities across the country remove, or consider removing, Confederate statues in the wake of events in Charlottesville, Va., many people in Philadelphia want to rid themselves of reminders of a figure from the less-distant past.
These people are calling for the removal of a statue and mural of Frank Rizzo, a controversial former mayor who had a contentious history with the city's minority groups.
The City of Brotherly Love has entered the fray of memorial debate in recent days over a 10-foot-tall statue of Rizzo that's mounted on steps across from City Hall. Known as a "tough-on-crime mayor" in the 1970s and 80s, Rizzo had an often turbulent relationship with the city's African-American and LGBT residents.
"He is the symbol of racism and a racist past that we are working very hard to try to move beyond," Philadelphia city councilwoman Helen Gym, who is calling for the statue to be taken down, told Fox 29. "Memorials aren't just about seeing time frozen in some past. It's about who we choose to honor today."
When Rizzo was the city's police commissioner, in 1970, he raided and strip-searched a group of Black Panthers whom officers suspected may have been linked to the death of a police officer, PhillyMag.com reported. Photos of naked Panthers appeared in newspapers, even though they were ultimately cleared of involvement in the death.
It's also alleged that Rizzo used the n-word frequently in private conversations when referring to black people. During his second mayoral campaign, he allegedly told a friend, "Forget about the n-----s, I don't need 'em."
Rizzo's family says his legacy has been tarnished since his death in 1991.
"They want to rewrite history. They want to reinvent history to make my grandfather out to be this racist. I know that he wasn't," Rizzo's grandson Joe Mastronardo told Fox 29. He's also worried about what might happen if the statue is removed.
"That's a potentially harmful situation for lots of people and it's completely unnecessary," he said.
A three-story mural of Rizzo in the Italian Market in South Philly could be removed as well. The Mural Arts project, which maintains the artwork, told Fox that it is the most vandalized mural currently on display.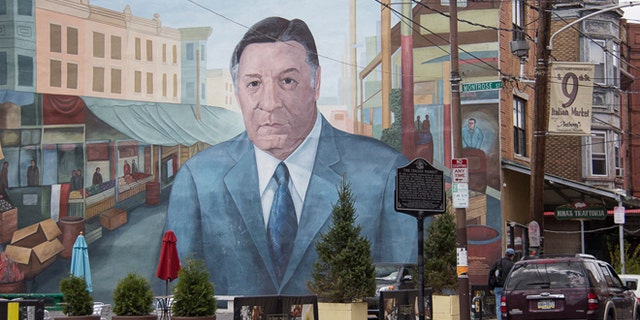 "Perhaps it is time to have a conversation about whether this mural should stay or be replaced by something else," the group said.
Current Philadelphia Mayor Jim Kenney weighed in on the situation Wednesday, releasing a statement.
"We think now is a good time to have that conversation about the statue's future. We need to figure out the proper forum for that conversation in a serious, structured way, but now is the right time."
Others stay the statue, which was vandalized Tuesday, should stay put.
More than 16,000 people signed a petition this week to have the statue remain in place outside the city's Municipal Services Building.
"We the People of Philadelphia love & respect Frank Rizzo," reads the petition posted on Change.org. "We the People of Philadelphia want the Frank Rizzo bronze Monument on the property of the MSB building to remain in place."