Pennsylvania murders: Cosmo DiNardo's string of confessions under scrutiny
Cosmo DiNardo, the man who confessed last week to killing four men who disappeared earlier this month in Pennsylvania's Bucks County, has claimed to have killed at least two other people, according to a series of reports -- but investigators are looking into whether the claims are legitimate.
During DiNardo's confession, he also said that he had killed two people in Philadelphia when he was 15, a person with knowledge of the conversation told The New York Times.
A Philadelphia police spokesman told Fox 29 that homicide investigators were aware of DiNardo's claims. They're investigating any potential links between the confessions and any unsolved cases, but currently do not have many details.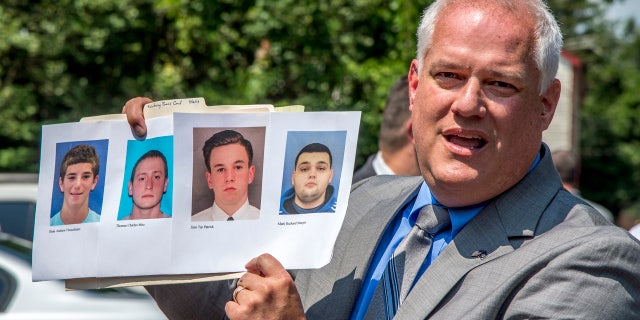 PENNSYLVANIA MURDERS: KILLER USED PIG ROASTER TO BURN BODIES, OFFICIAL SAYS
The Bucks County District Attorney is vetting all statements made by DiNardo in his confession, the spokesman said.
After killing the four men, DiNardo, 20, confessed to burning the bodies in a metal tank that was converted into a cooker that he labeled a "pig roaster."
DiNardo has been charged with all four homicides and 20 other counts, including abuse of corpse, conspiracy and robbery, according to court documents.
His alleged co-conspirator and cousin, Sean Kratz, 20, faces 20 counts, including three of criminal homicide.