Pennsylvania Man Ordered to Remove 24-Foot Cross From Lawn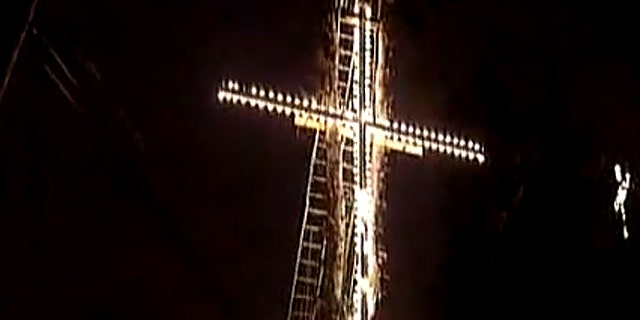 BALDWIN, Pa. – A western Pennsylvania man has been ordered to remove a 24-foot illuminated cross from his front yard following complaints by his neighbor, who claims the act of faith is actually an act of revenge.
Carl Behr, 45, of Baldwin, Pa., received a notice on Monday ordering him to remove the cross within five days or face a penalty. But Behr plans to fight the order at a Baldwin Borough meeting late Tuesday.
"It's all about my faith, and some people are trying to turn this into a real circus," Behr told FoxNews.com. "They're going to get a mouthful tonight."
Neighbor Lisa Fera, who lives across the street from Behr, says the cross shines directly into her home and was built after she complained about Behr parking vehicles from his construction business in front of her residence.
"I'm not looking to be a bad neighbor, I believe in God, I believe in being Christian, but if you are truly Christian, then you would be supporting and respecting your neighborhood," Fera told WTAE.com. "I feel that this is a direct intimidation of me, that each time you call the police or do something, a cross goes up."
Attempts to reach Baldwin Borough Manager John Barrett were not successful early Tuesday.
Behr, however, said he plans to use every resource to keep the cross, which he claims is a direct measurement of his religious devotion.
"I'm going to defend my faith," Behr said. "It's not about winning and losing."