Pennsylvania Editor Stands by Sandusky Possible Plea Report, Despite Denials by Attorney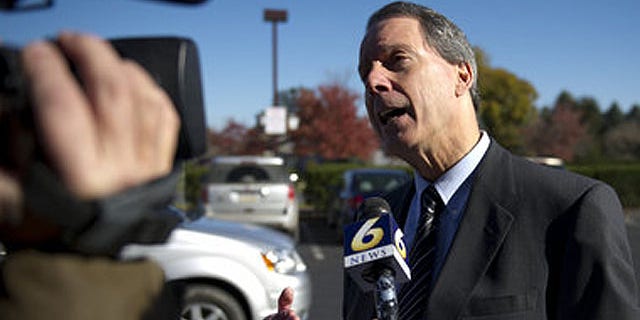 The editor of a Pennsylvania newspaper that published a story reporting that an attorney for former Penn State assistant coach Jerry Sandusky would consider a plea deal if more allegations of child sex abuse arise says he stands by the story, despite denials by the lawyer.
David Newhouse, editor of the Harrisburg Patriot-News, told FoxNews.com that the newspaper stands by its report.
"We have tried to be fair and responsible in all our reporting, and our story today is an accurate account of our interview with Mr. Amendola," Newhouse said. "This is not a 'he said, she said' situation. Anyone can listen to the interview themselves on tape."
Amendola, meanwhile, disputed the newspaper's account.
"No, that is not accurate," he told FoxNews.com when asked if he said that a plea deal "could happen" if more allegations come forth.

"Bottom line, Jerry has always maintained his innocence from the first allegations, and continues to maintain innocence," Amendola reportedly told the newspaper. "What happens with any additional charges which may be filed remains to be seen."
A FoxNews.com review of the 13-minute video posted on the newspaper's website of the interview with Amendola, however, reveals that at no time did Amendola use the word "plea" or "deal" in response to Ganim's question.
Ganim said: "Is there going to be a point though, where you might sit down with him and say, 'Look, we have X number of allegations coming from forward from X number of people, maybe it's time to talk about a different strategy?"
"Well, that could happen down the road if more allegations come forth and if Jerry gets to the point where he realizes that fighting against more than the original eight allegations might be a real uphill battle," Amendola replied. "As I've said all along, I mean we're in a position where we're climbing a mountain, probably mount Everest just because of the way that the media coverage has progressed and we're starting from the bottom fighting our way up."
Ganim, who unavailable for comment on Thursday, said the story was in "complete agreement" with Amendola's statement.
"Anyone who says different is drawing big conclusions," she posted on her Twitter account.
At least four -- and potentially more -- new alleged victims have come forth since Sandusky's arrest. Amendola has also hired a private investigator, according to the Patriot-News.

On Wednesday, a 29-year-old man claimed he was molested more than 100 times as a boy by Sandusky in the first civil lawsuit from the scandal. The alleged abuse occurred after Sandusky met the then-10-year-old boy through his charity in 1992, and continued until 1996, according to the lawsuit. Attorney Jeffrey Anderson said Sandusky threatened the boy's family to keep quiet about the encounters.

Sandusky allegedly abused eight boys throughout a 15-year period. This latest alleged victim is not among those identified in a grand jury report released this month. The former one-time heir apparent to former Penn State head coach Joe Paterno has since acknowledged showering with young boys but denied molesting them.
FoxNews.com's Jana Winter contributed to this report.
Click to read more on this report from the Harrisburg Patriot-News.