Penn. State University ex-officials accused of cover-up set for court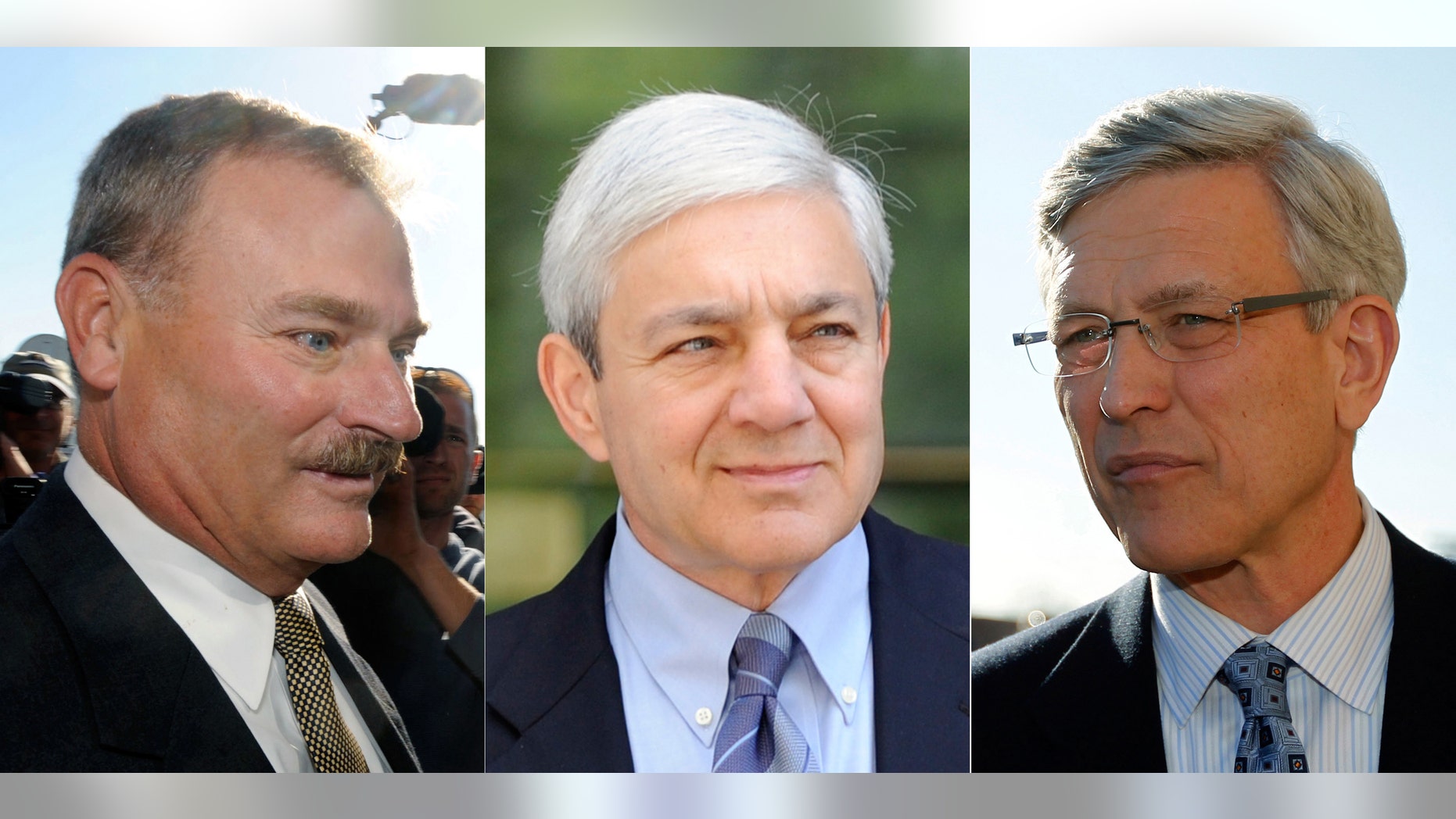 HARRISBURG, Pa. – Three former Penn State officials accused of covering up child sex abuse allegations against Jerry Sandusky are expected to argue in court this week that their right to legal representation was violated when they appeared before an investigative grand jury more than two years ago.
The pretrial hearing, which starts Tuesday before Dauphin County Judge Todd Hoover in Harrisburg, will address claims by the three that their charges should be dismissed as a result.
Criminal charges were first filed two years ago against athletic director Tim Curley and vice president for business and finance Gary Schultz. That was followed by more charges last year, aided in part by email traffic uncovered by Penn State during its own review of the Sandusky matter, and for the first time prosecutors charged Graham Spanier.
The three are charged with perjury, obstruction, conspiracy, child endangerment and failure to properly report suspected child abuse. Their lawyers did not return messages seeking comment about the hearing from The Associated Press over the past week.
The hearing will focus on Cynthia Baldwin, who accompanied the men when they testified before the secret panel in 2011. Baldwin at the time was the university's chief counsel, and defense attorneys have questioned who she was representing and whether she should have been allowed inside the grand jury room.
Baldwin also later testified against them, giving information that was used in the grand jury report filed with the charges against Spanier and the additional charges against Curley and Schultz. Defense lawyers have objected strenuously to Baldwin's cooperation with investigators.
In a court filing two months ago, for example, Spanier's lawyers called Baldwin's conduct egregious and said she violated rules that protect confidentiality of lawyer-client relations and a lawyer's work product.
Spanier asked the judge for a transcript of Baldwin's grand jury testimony, information about Baldwin, attorney-client privilege and work product protection, and any immunity deal she may have been granted. Court records do not indicate a response from Hoover to those requests.
The state Supreme Court in June declined to take up a sealed appeal in which Curley and Schultz raised Baldwin-related claims, but the justices said in their one-sentence order that the defendants could raise their objections in front of Hoover.
Judge Barry Feudale, who ran the grand jury, had earlier ruled he did not have the authority to throw out the charges. Feudale also said in a written opinion that he believed Curley, Schultz and Spanier were stalling for time.
"In this court's view, defendants' various motions, appeals and assertions (all of which are within their rights) are an attempt to delay the case from being heard before the proper tribunals," Feudale wrote in a May court order.
In response to questions about the scope of next week's hearing, a court system spokesman said Hoover would take testimony "on the issue of representation in related grand jury matters."
Baldwin's lawyer, Charles De Monaco, said last week he wasn't sure whether Baldwin would participate in the hearing. He also referred to a statement he issued a year ago that said Baldwin "at all times fulfilled her obligations to the university and its agents."
Joe Peters, a spokesman for the state attorney general's office, which is prosecuting the three, declined to comment about the hearing "because of these proceedings arising out of a grand jury investigation and the documents being under seal."
Sandusky, the school's former longtime assistant football coach, was convicted of 45 child sexual abuse counts in June 2012 and is serving a decadeslong prison sentence. He has a request pending before the state Supreme Court to consider his appeal after being turned down by Superior Court.
Spanier was forced out as university president shortly after Curley, Schultz and Sandusky were first charged in November 2011. Curley and Schultz are retired from Penn State, while Spanier remains a faculty member.