Pacific Gas & Electric: Federal criminal charges likely in fatal California pipeline blast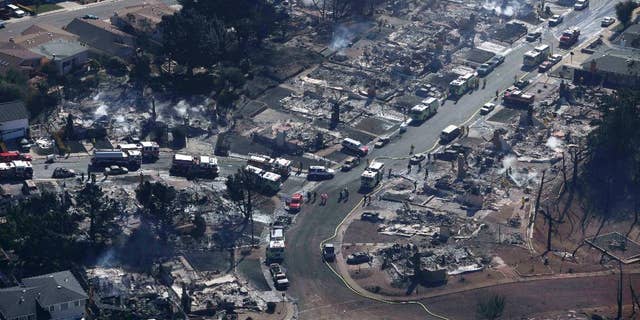 SAN FRANCISCO – Pacific Gas & Electric Co. said Thursday the company will likely face federal criminal charges for its role in a fatal gas pipeline explosion in the San Francisco Bay Area.
A disclosure document filed with the Securities and Exchange Commission by PG&E Corp. and its subsidiary said the company expects the federal government will bring criminal charges against the utility in connection with the Sept. 9, 2010, explosion of its transmission pipeline in San Bruno.
The blast killed eight people, injured dozens of others and sparked a fireball that laid waste to 38 homes in the bedroom community that still bears scars from the accident.
The company said it has been in discussions with federal prosecutors to reach a resolution, but it now expects federal prosecutors will charge that PG&E's past operating practices violated numerous federal Pipeline Safety Act requirements. No details were provided about the type of charges anticipated or who might be charged.
Lillian ArauzHaase, a spokeswoman for the U.S. attorney's office in San Francisco, said she could not immediately comment.
PG&E President Tony Earley said the company has made fundamental changes to its operations and embraces the NTSB's recommendations.
"San Bruno was a tragic accident that caused a great deal of pain for many people. We're accountable for that and make no excuses. Most of all, we are deeply sorry," he said in a statement provided Thursday. "We've committed $2.7 billion of shareholders' money to date and we're making excellent operational progress. We have more work to do and we intend to do it right."
About a year after the explosion, investigators from the National Transportation Safety Board found that a litany of failures by Pacific Gas & Electric Co. led to the blast and warned there was no certainty that those problems didn't exist elsewhere.
The board also made a series of safety recommendations to regulators and the gas industry, concluding the incident wasn't the result of a simple mechanical failure, but was an "organizational accident."
___
Follow Garance Burke at http://twitter.com/garanceburke