Out-of-work dad holds sign at Philadelphia train station in hopes of job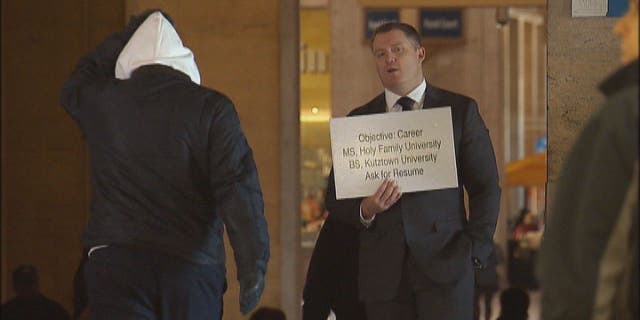 NEWYou can now listen to Fox News articles!
An out-of-work father is job-hunting in a unique way -- by holding a sign in front of thousands of commuters at a Philadelphia train station for four hours a day.
According to MyFoxPhilly.com, Rob Crozier, 36, splits his days between student teaching and holding a sign at 30th Street Station asking commuters to ask him for his resume.
Crozier has a Master's degree from Holy Family University and is a certified school counselor.
"At 36 I never thought I be in this position," Crozier told the station. "It's encouraging that random strangers stop to talk, to give advice, to give hope, and opportunity by having a conversation."
Crozier said he sometimes gets advice on his resume and commuters have encouraged him to add more detail about his previous jobs.
"I feel bad that we are in this situation," he said about his family. "That's why I am trying to do anything I can to create an opportunity for us."
Click for more from MyFoxPhilly.com.