Olympic gold medalist dies after America's Cup sailboat capsizes in San Francisco Bay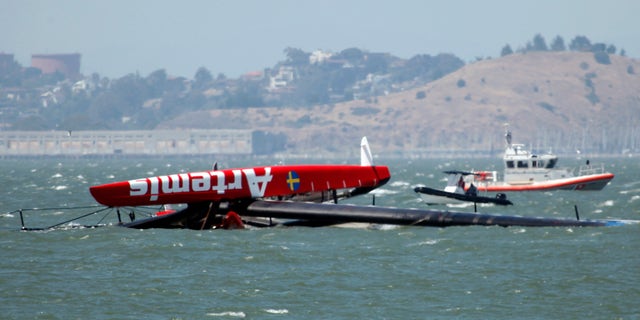 SAN FRANCISCO – A 72-foot-long Swedish sailboat capsized Thursday in San Francisco Bay while practicing for the upcoming America's Cup races, killing an Olympic gold medalist from the United Kingdom and injuring another sailor, authorities said.
Artemis Racing said Andrew "Bart" Simpson died after the capsized boat's platform trapped him underwater for about 10 minutes around 1 p.m. PDT.
Simpson served as the Swedish team's strategist and had won one Olympic gold medal and one silver medal. He was 36 years old, according to San Francisco Fire Department officials.
Artemis said doctors "afloat" with the team and on shore couldn't revive Simpson after he was freed from the wreckage.
"The entire Artemis team is devastated by what happened," CEO Paul Canyard said in a statement posted on the team's website. "Our heartfelt condolences are with Andrew's wife and family."
Simpson and another sailor were injured when the Artemis Racing catamaran capsized near Treasure Island, a former naval station in the bay, Fire Department spokeswoman Mindy Talmadge said.
Both were brought to shore and taken to the St. Francis Yacht Club, where paramedics performed CPR on Simpson. He was pronounced dead a short time later, fire officials said.
The other sailor suffered minor injuries, and the rest of the crew of 13 was accounted for and taken back to their dock in Alameda in a boat operated by Oracle Racing, which is defending its 2010 America's Cup title in San Francisco this summer.
The Swedish-based team and two other yacht clubs are scheduled to compete with each other for the honor of challenging Team Oracle for the America's Cup, sailing's most prestigious trophy.
The boat that capsized is a specially built catamaran that can reach speeds of 45 mph.
Coast Guard Lt. Jeannie Crump said the agency did not know the extent of the damage to the boat. She said a commercial salvage boat was at the scene and would tow the vessel to Clipper Cove, between Yerba Buena Island and Treasure Island.
Crump added that Coast Guard officials weren't sure what caused the boat to capsize. The Swedish team has two boats, she added.
The America's Cup race is scheduled to run from July through September, and the teams are training in the bay.
The Louis Vuitton Cup for challengers starts July 4, with the winner facing Oracle in the 34th America's Cup beginning Sept. 7.
This is the second time a sailor has died during training for the America's Cup.
In 1999, Martin Wizner of the Spanish Challenge died almost instantly when he was hit in the head by a broken piece of equipment.
Artemis has had its share of upheaval in the buildup to the 34th America's Cup. Late last year, skipper Terry Huthinson of Annapolis, Md., was released. He was replaced by Nathan Outteridge of Australia, who won a gold medal at the London Olympics.
Artemis has had technical problems, as well. Last fall, Artemis said the front beam of its AC72 catamaran was damaged during structural tests, delaying the boat's christening. A year ago, Artemis' AC72 wing sail sustained serious damage while it was being tested on a modified trimaran in Valencia, Spain.