Oklahoma teachers strike for higher pay, education funding
After nine days, the Oklahoma teacher walkout, with educators demanding more money for salaries and classroom needs, came to an end Thursday.
Instead of continuing to strike, the largest teachers union called for its members to shift focus to electing educators in November who are more in-line with their demands.
Oklahoma's Republican governor has already signed legislation to increase teacher salaries in the state, but the union said it was not enough.
The average teacher starting salary for the 2016-2017 school year was $38,617, according to the National Education Association. In comparison, the average starting salaries for teachers in Oklahoma that same year was $31,919.
Here's a look at what Oklahoma educators demanded.
What do the teachers want?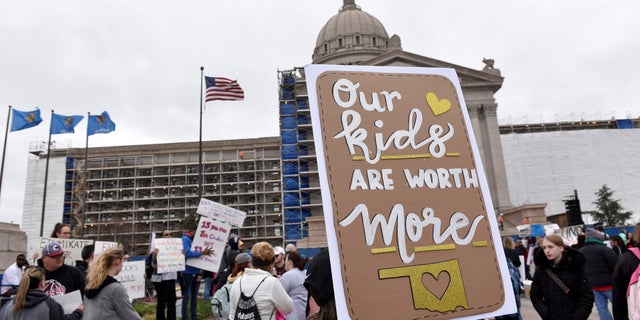 The Oklahoma Education Association (OEA) demanded $10,000 in raises for teachers over the next three years, KOKH-TV reported. The union also asked for a $5,000 pay increase for other school officials, such as bus drivers, food service workers and custodians, according to KOKH.
At rallies in front of the state Capitol, teachers asked for newer and updated textbooks, more arts classes and smaller class sizes, according to the OEA.
Aren't they already getting a raise?
Gov. Mary Fallin, a Republican, already signed legislation that would up teacher pay by about $6,100 through an increase in taxes on certain goods, such as cigarettes and fuel.
The state legislature approved $2.9 billion for public schools, an increase of nearly 20 percent over last year's spending. Much of the new money was earmarked for the teacher raises.
Oklahoma's new revenue measures are expected to generate about $450 million, with the bulk going to teacher raises and about $50 million going to general education funding. The teachers union has called for an additional classroom funding of $75 million. It has also criticized the governor for passing a measure repealing a $5-per-night hotel and motel tax that was part of the original education package. Repeal of the hotel tax reduces the total package by about $45 million.
In the midst of the walkout, Rep. John Pfeiffer, a House majority floor leader, said lawmakers are unlikely to consider any other major revenue bills this session.
How does the state budget look?
State funding for Oklahoma's public schools has decreased by about 9 percent since 2008, The Oklahoman reported. In contrast, student enrollment has increased by more than 8 percent.
But Jonathan Small, president of the Oklahoma Council of Public Affairs, pointed to a growth in "non-teacher" employment in Oklahoma's public education that could drain the education budget.
"Schools, largely driven by the perverse incentive by unions to get more members and memberships, have focused dollars on things other than what's most important to Oklahomans which is a direct teacher in the classroom," Small told Fox News.
"We need to see a greater focus on teachers with the current dollars that we have already – now that [the legislature] passed one of the highest tax increases in Oklahoma history," Small said. "With the actions of the legislature … it's not going to be argued that more additional funds haven't been pumped into education at a time when Oklahoma is still recovering from a massive economic decline."
His organization also warned comparing teacher salaries in Oklahoma to Texas can be "misleading" because of a difference in the economic makeup of both states.
Fallin, too, warned the budget is tight and there are other critical needs in the state as well.
"We must be responsible not to neglect other areas of need in the state, such as corrections and health and human services, as we continue to consider additional education funding measures," the Republican said.
Are Oklahoma teachers alone?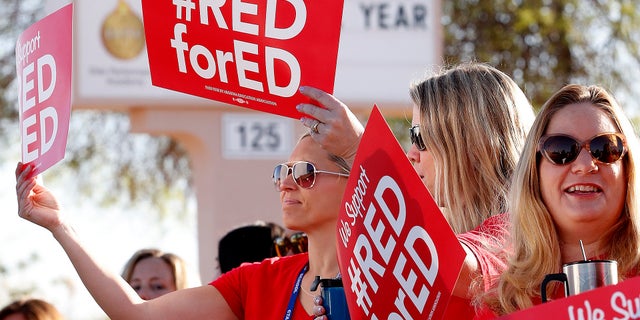 There has been a surge of teacher coalitions nationwide striking and rallying to demand more money in recent months.
Hundreds of teachers in Kentucky called in sick in April to protest last-minute changes to their pension system. And thousands have descended upon the state Capitol in Frankfurt to rally for additional education funding multiple times this month.
Teachers in Arizona staged what organizers called a "walk-in" to demand more funding. The walk-in occurred before school and gave teachers and parents an opportunity to show unity for their demands, according to organizers.
Arizona Gov. Doug Ducey, a Republican, caved to the demands and moved a planned 1 percent raise proposal to a 9 percent wage hike starting in the fall. He also granted an additional 5 percent increase in the 2019 and 2020 school years.
West Virginia teachers went on strike for two weeks earlier this year until Republican Gov. Jim Justice signed a bill that included a 5 percent pay increase.
The Associated Press contributed to this report.