Oklahoma officer accused in 6 sexual assaults during traffic stops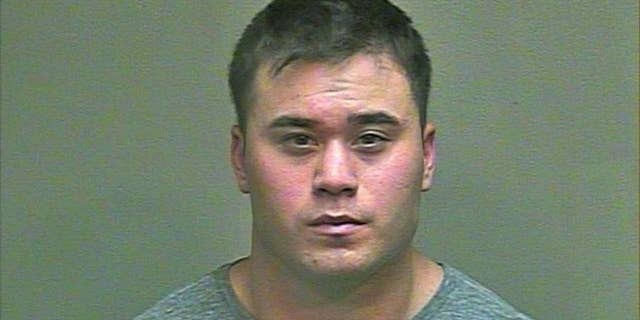 NEWYou can now listen to Fox News articles!
OKLAHOMA CITY – An Oklahoma City police officer who was a star football player in high school and college is accused of sexually assaulting at least six women during traffic stops and investigators are looking into whether there are more victims.
Daniel Ken Holtzclaw, 27, was arrested Thursday on complaints including rape, sexual battery and indecent exposure. Formal charges could be filed against the former Enid High School and Eastern Michigan University football player by Aug. 29, District Attorney David Prater said.
The Oklahoman reported Friday that all of the alleged victims were between the ages of 34 and 58 and occurred in an area of the city north and east of the state Capitol building. The alleged assaults took place between February and June of this year.
Police Chief Bill Citty said at a news conference Thursday that Holtzclaw stopped women while he was working, forced them to expose themselves, fondled them and in at least one instance had intercourse with a woman.
The investigation began after a woman complained to police June 18, the chief said. Holtzclaw was placed on leave that day.
"We started the investigation and we started looking at traffic stops he had made throughout the previous months to try to identify and initiate contact with females that we knew he had stopped during that period of time ... to see if they had been sexually assaulted," Citty said.
In a feature story last year, the Enid News & Eagle newspaper said Holtzclaw's father was a lieutenant in that city's police department.
Oklahoma City police released a photo of Holtzclaw with the hope that any other victims would recognize him and step forward. Investigators said they anticipate receiving a statement from a seventh woman.
Records indicate Holtzclaw was being held at the Oklahoma County Jail in lieu of $5 million bond. The records don't list an attorney, and jail staff said they could not provide attorney information.
Holtzclaw was an all-state football player in his senior year at Enid, leading the team with 123 tackles. The Eastern Michigan University football media guide in 2008 featured him at the top of its roster page -- touting his weightlifting abilities and his starting in every game since his arrival on campus in 2005. A biography says he has two sisters and was a criminal justice major.
A 2013 feature story in the Enid paper said Holtzclaw still held his high school record for tackles in a game and failed a tryout with the Detroit Lions after not being selected in the NFL draft. He said he enjoyed police work for its variety.
"It's not the same routine every day. One day I am helping citizens and the next day you are in a foot chase or a high-speed pursuit," he told the newspaper. "It's what you make of it. You can be a stereotypical cop or find felons and drugs."
Holtzclaw said he wanted to join the city force's anti-gang unit "where you knock and go in screaming."
"The gang unit reminds me most of playing football," Holtzclaw said. It reminds me of that adrenaline rush. You are going, going ... chasing bad guys."