Oklahoma jail escape: 4 on the run, including murder suspect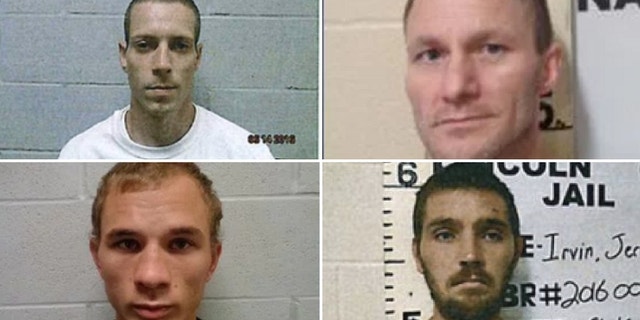 Four inmates, including a first-degree murder suspect, were on the loose after they escaped an Oklahoma jail early Monday morning, police said.
The inmates escaped Lincoln County Jail between 1 and 4 a.m. through an air vent, Fox 25 reported. It was just their latest attempt to break out of the lockup, according to the news station.
The inmates were identified as Jeremy Irvin, 32; Brian Moody, 23; Sonny Baker, 41; and Trey Goodnight, 27.
PULSE NIGHTCLUB SHOOTING: WHERE IS MATEEN'S WIFE?
Moody, Baker and Goodnight face property crime charges. Irvin was charged with first-degree murder, according to Fox 25.
This wasn't the first time some of the inmates escaped from jail. Moody, Baker and another inmate broke out the facility in March -- also through the ventilation system. They were captured and apprehended before the end of the month.