Oil up 2 percent on weaker dollar, gas prices down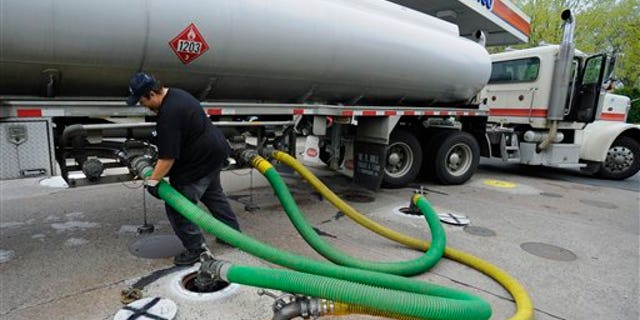 NEW YORK – Oil rose about 2 percent Tuesday after a sharp drop in the dollar and reports of pipeline problems in the Midwest.
Benchmark crude added $1.59 at $102.19 per barrel on the New York Mercantile Exchange. It was as high as $103.39 at one point. In London, Brent crude rose $1.97 at $116.65 per barrel on the ICE Futures exchange.
The dollar lost ground to the euro as the European Union discussed whether to send more financial aid to help Greece's economy. Oil is priced in dollars and tends to rise as the greenback weakens and makes crude cheaper for investors holding foreign currency.
TransCanada temporarily shut down the Keystone Pipeline after noticing a minor spill at a pump station in Kansas. The pipeline delivers a half million barrels of oil per day to the U.S. from Alberta. It feeds supplies to Cushing, Okla., the delivery point for benchmark crude, and a sustained shutdown could push prices higher this week.
"We hope to have it up and running within a few days," TransCanada spokesman Terry Cunha said. It's the second shutdown of the pipeline this month.
A weak consumer confidence reading cooled slowed the rise in oil. The Conference Board's Consumer Confidence Index for May showed the lowest reading since November. Economists said consumers were losing confidence due to a choppy rebound in the job market, high gas prices and an ongoing slump in home values.
"That's a definite negative," analyst Jim Ritterbusch said. "When they're not confident, consumers don't buy as much. And they make up 70 percent of the economy." Gasoline prices have been falling most of the month after hitting a three-year record at $3.9845 per gallon. The national average has dropped for 19 consecutive days, shedding 20.5 cents, or 5 percent, to $3.78 per gallon on Tuesday, according to AAA, Wright Express and Oil Price Information Service.
Pump prices are still $1.048 more expensive than the same time last year.
In other Nymex trading, heating oil for June delivery rose 5.15 cents to $3.0529 per gallon, while gasoline for June delivery gained 3.75 cents at $3.0688 per gallon. It is the last trading day for both contracts. Natural gas for July delivery added 13.5 cents to $4.653 per 1,000 cubic feet.
___
Chris Kahn can be reached at http://www.twitter.com/ChrisKahnAP