Off-duty California deputy shot during confrontation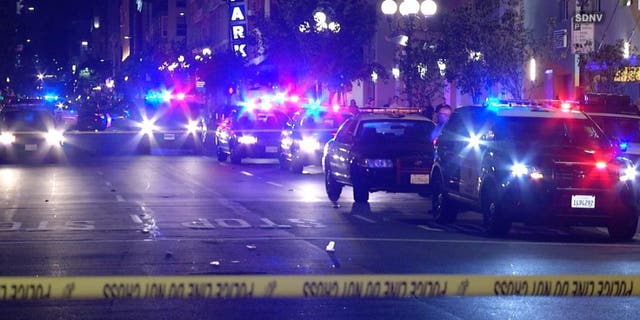 An off-duty California deputy and another man were shot during a confrontation Monday morning, leading police on a manhunt for two possible suspects in connection with the shooting.
The deputy was walking with a group of people -- including two other off-duty officers -- in San Diego when a man with a gun confronted them at 1:17 a.m., FOX5 San Diego reported.
"One of the deputies saw the suspect pulling the gun out and started wrestling the suspect for the gun," San Diego police officer John Buttle said. "During the struggle three shots were fired."
The deputy, whose name was not released, was struck three times in the shoulder and was hospitalized with non-life threatening injuries, authorities said. A man who was walking in the street at the time was also shot in the arm. He drove himself to the hospital, according to FOX5 San Diego.
Investigators reviewed surveillance videos from nearby businesses that captured the shooting. They believe two people may have been involved in the incident.
"We think there may have been two, based on the video, but right now we're focused on the individual with the gun," Lt. Ernesto Servin said.
The motive of the shooting is still unclear.