NYC mom critically injured while saving kids from falling tree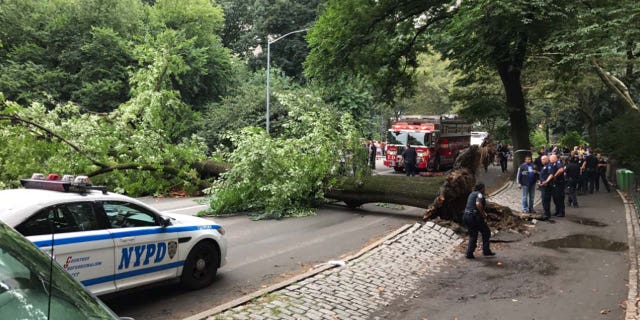 NEWYou can now listen to Fox News articles!
A New York City mom on Tuesday was hailed a hero after she shielded her three children--including a 41-day-old-- from a massive tree that fell on them during a stroll in Central Park.
Anne Monoky Goldman, 39, broke her neck and her son Grant, 2, suffered a fractured skull, The New York Post reported. A witness told the paper that if not for the mother's quick action, all three children could have been killed.
"It was terrifying,'' Jamie Brown, 42, a Virginia tourist, told the paper. "You heard the tree fall and didn't know what happened, and then you hear a baby scream.''
The Post reported that the mom was walking along West Drive near West 62nd Street with her 1-and-a-half-month-old infant, James, strapped to her chest and Grant and his 4-year-old brother, Will, in a stroller when the towering elm toppled on them at about 10 a.m.
"The mother hit her head trying to shield branches from striking the children," FDNY spokesman Frank Dwyer told the paper.
The scene was chaotic. Rescuers had to use chainsaws to pull the woman from the fallen tree. The report said Goldman lost consciousness for about three minutes and "woke up immediately asking about her kids."
"It was giant, it was across all of them, we were able to pull the branches back and get the 3- and 4-year-old out pretty easily, but then the baby was strapped to her so that took a little bit," Jack Jones, a nurse who witnessed the tree fall, told CBS. "They had the stroller tipped up against her so I think that kind of saved them."
Goldman was rushed to New York-Presbyterian Hospital, where she was diagnosed with a fractured neck, according to brother-in-law Ryan Goldman.
"She's still going through a lot of treatment, she's getting a CAT scan and MRIs," he told The Post.
Grant had a cracked skull, but his two brothers — including James, who was born just 41 days ago — were discharged from the hospital Tuesday afternoon, according to Ryan.
The brother told the paper that Goldman is more concerned about Grant than herself.
"Nothing [is] more important to her than her kids. No question that when her sons recover from this, she, too, will get better. But for the moment, she is struggling," he said.
Click for more from NYPost.com