No signs of human remains in Detroit search for Jimmy Hoffa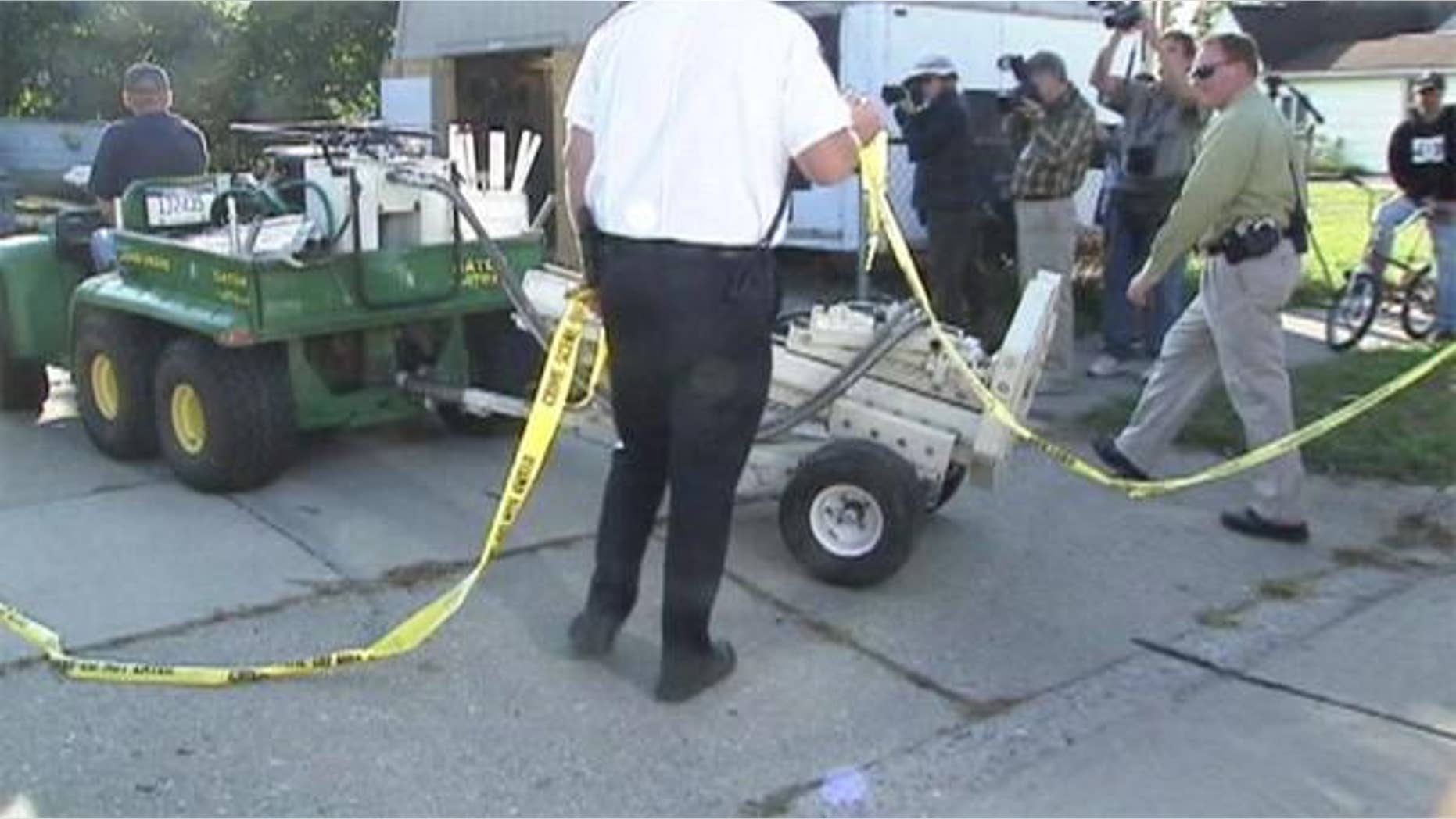 Authorities drilled through concrete and removed two samples of wet soil and clay in a modest Detroit-area neighborhood Friday in the latest effort to find the remains of Teamsters boss Jimmy Hoffa, who disappeared in 1975.
There was no visible sign of human remains, but test results could be ready by Monday, Roseville Police Chief James Berlin said.
"We're not sure if anything is down there. That's what this is all about," Berlin said.
They drilled the concrete floor of a shed adjacent to a driveway where a recent radar test revealed a shift in the soil. The latest investigation was launched after a man told police that he saw a body being buried under the driveway 35 years ago and "thinks it may have been Jimmy."
Authorities have already said they don't think the timeline adds up and that it's unlikely Hoffa's body is there. He was last seen July 30, 1975, outside a restaurant in Oakland County, more than 30 miles to the west.
"I don't believe it's Mr. Hoffa. I don't know what it is," said Berlin, who was contacted last month by the man who said he witnessed a body being buried there. "We received credible information that a crime may have occurred. We're not doing anything we wouldn't have done on any other case.
"That shed did not exist at the time this allegedly occurred. The prior outbuilding that was there did not have a concrete floor."
The homeowner, Patricia Szpunar, 72, has lived there since 1988. She said her son uses the 12-by-12 shed to store two workbenches and his motorcycle. Police detectives appeared two weeks ago and said they may need to search her yard for a dead body.
"I laughed at them," Szpunar said Friday. "I looked at them and said, 'What? Do you think Jimmy Hoffa is buried in my backyard?' ... They just looked at me, and asked why I said Jimmy Hoffa."
Berlin said the brick, ranch-style home may have been owned in the 1970s by a gambler with ties to organized crime.
Hoffa was an acquaintance of mobsters and adversary to federal officials. He spent time in prison for jury tampering. The day he disappeared, Hoffa was supposed to meet with a New Jersey Teamsters boss and a Detroit mafia captain.
He was declared legally dead in 1982. Previous tips led police to excavate soil in 2006 at a horse farm more than 100 miles north of Detroit, rip up floorboards at a Detroit home in 2004 and search beneath a backyard pool north of the city in 2003.
There were even rumors that Hoffa's remains were ground up and tossed into a Florida swamp, entombed beneath Giants Stadium in New Jersey or obliterated in a mob-owned fat-rendering plant.
On Friday, about 150 people filled the street near Szpunar's home as state Department of Environmental Quality workers drilled for samples.
"I want to see if they are going to find something," said 25-year-old Heather Strohscherin, who lives two blocks over and doubts the site is Hoffa's final resting place.
"It is a good spot," she said. "Who would guess in the backyard in a Roseville neighborhood?"
Berlin said the site will be treated as a crime scene until at least Monday, pending results of the soil tests.
As for the homeowner's knowledge about Hoffa's disappearance?
"Sure, I read about it in the paper. I've listened to it on TV," Szpunar said. "But not because I'm that interested in it. It was just because it was current news."