No charges for Ohio officer who shot suspect on body cam video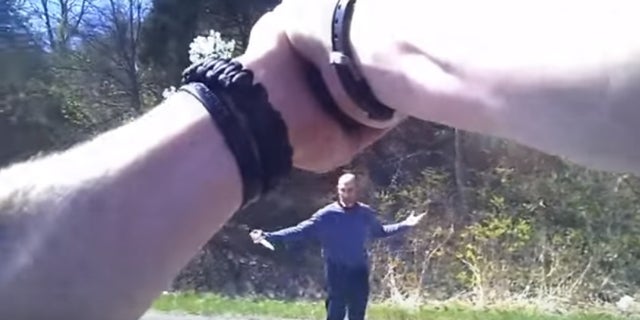 A Maryland slaying suspect shot and wounded by a police officer in Ohio is heard shouting at the officer to "kill me" as the officer repeatedly tells him to drop his knife and "get down," in body camera video that a prosecutor showed Tuesday while announcing the officer will not be charged.
Warning: Video may be disturbing, contains graphic language.
The body camera video shows Glendale Officer Joshua Hilling's "remarkable restraint" in dealing with Pablo Javier Aleman and that Hilling is "one brave individual," Hamilton County Prosecutor Joseph Deters said.
Deters said Aleman, who is wanted by Baltimore County police in Maryland on a warrant in a 2016 homicide, is being held on an attempted murder charge stemming from his confrontation with the officer. It wasn't known if Aleman has an attorney in Ohio or Maryland who could comment on his behalf.
Deters said Hilling stopped Aleman when the officer saw the 46-year-old man walking along Interstate 75, north of downtown Cincinnati on March 29. When Hilling went to pat down Aleman, as standard practice before allowing someone into a police cruiser, Aleman drew a knife on the officer, who then shot Aleman once in the abdomen, Deters said.
After the initial struggle and shooting, the video shows Aleman armed with the knife walking toward the officer at times or walking back and forth on the road while asking Hilling over and over to "kill me" as the officer repeatedly shouts at him to "drop the knife" and "get down."
"Just stop, just stop," Hilling yelled at one point.
Other officers arrived on the scene, and Aleman dropped to the ground after police fired a stun gun, hitting him.
Aleman remained in the hospital Tuesday, where he was continuing to recover, Deters said. Hilling was not injured.
Maryland authorities have said Aleman is suspected in a man's fatal stabbing there March 17. Baltimore County Police spokesman Cpl. John Wachter has said that Aleman is wanted on an arrest warrant in the killing of 51-year-old Victor Adolfo Serrano. Serrano was found with multiple stab wounds in Baltimore County and pronounced dead at the scene. Police have not released a motive for his death.
Deters said the Ohio charge against Aleman will be disposed of before he can be extradited to Maryland to face charges there. The prosecutor said there is a high probability that the knife recovered from Aleman in suburban Cincinnati was the one used in the Maryland slaying, but authorities are awaiting DNA results.
The Ohio case will be presented this month to a Hamilton County grand jury to determine whether to indict Aleman on the attempted murder charge. He could be sentenced in Ohio to 11 years in prison, if he is convicted of attempted murder, Deters said.