Nikki Haley says Syrian refugees she met during overseas trip 'want to go home'
The overwhelming humanitarian catastrophe that is the Syrian civil war has been a special focus of Nikki Haley, the U.S. ambassador to the United Nations. Haley recently returned from a visit to Syrian refugee camps in Jordan and Turkey where she experienced a first-hand view of what many have been facing.
"It was amazing to see," she said of her many meetings with Syrian refugee families. The message she kept hearing, she said, was: "We want to go home."
In an exclusive interview with Fox News, Haley recounted her visits to refugee camps that are temporary home to almost 3 million Syrians. Some have been living in limbo for as long as five years. She points to the humanitarian generosity of the United States for helping save the refugees' lives. The U.S. is the No. 1 provider of aid, she notes, providing more than $6.5 billion so far.
US AMBASSADOR TO UN HAILS TURKISH SCHOOL FOR SYRIA REFUGEES
"My goal in the trip to Jordan and Turkey was really to see what the status of the refugee situation was there," she said. "Jordan and Turkey deserve major props for how they host refugees. They are very welcoming their mindset, it is our duty to welcome them in. They have established health care for all of them, education for all of them, they get stipends, they are doing training, psychological support across the board. They are doing as much as they can."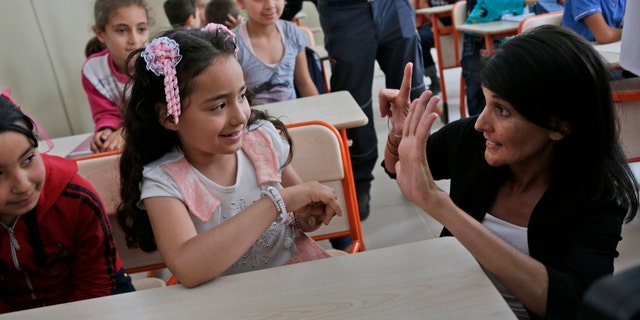 Haley has long harshly lambasted the diplomats from Russia, Syria and Iran on the Security Council for continuing the war that has claimed so many lives. The fighting has also driven millions of others out of the country and into the refugee camps.
Moscow has so far vetoed eight Security Council resolutions regarding Syria as it works to protect the Assad regime from world anger. This week, Haley detailed to the Council diplomats the unimaginable cost of the continued fighting, highlighting a report by Amnesty International that detailed unspeakable horrors in Syrian President Bashar al Assad's notorious Saydnaya Prison.
ON THE SYRIAN BORDER, HALEY CONFRONTS CIVIL WAR'S REALITY
Haley said "the Assad regime has constructed a crematorium in the prison to dispose of the victims' bodies...Russia and Iran have either aided in or passively looked away as the Assad regime commits atrocities that are reminiscent of the history's worst war crimes."
Haley said the message she took to the refugees was that the U.S. would not give up on trying to ease their suffering. But, she added, the ultimate goal is to help the displaced Syrians return home.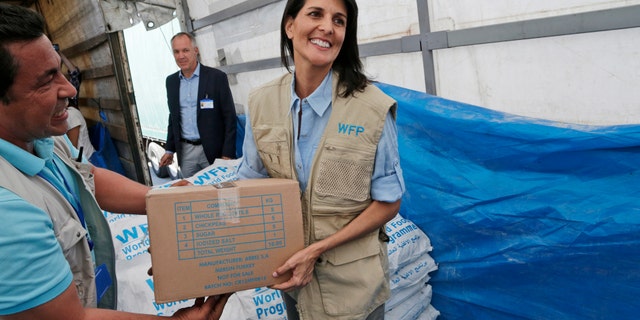 She told Fox News that of all the refugees she met, not one expressed a desire to migrate to the United States. They all wanted to return home.
"Not one of them said we want to go to the United States," she said. "And our goal should be, support those host countries that are feeling the pressure and the strain."
Ms. Haley recounted one refugee who approached her with that plaintive message.
"I had one refugee man come and stop me as I was walking though the camp," she recounted. "And he said 'please keep talking about us. We watch you and we want you to keep supporting us. We don't need your money, we don't need food.' He said: 'We just need you to keep talking about how brutal Assad is and we need you not to forget us.'"
HALEY WANTS UN TO SHIFT AID FOCUS TO NATIONS HOSTING SYRIANS
Haley will return to the region next week. She will first stop in Geneva, Switzerland and address the UN Human Rights Council, becoming the first U.S. ambassador to the United Nations to do so.
She is expected to call out the Council for what critics have long said has been one-sided criticism of Israel, while protecting violators of human rights such as Iran and Cuba. She will then travel to Israel for meetings with Israeli officials and is also expected to meet with Palestinian officials.
Ben Evansky contributed to this report.