New York Teen Set Blaze That Killed Adoptive Father, Two Brothers, Cops Say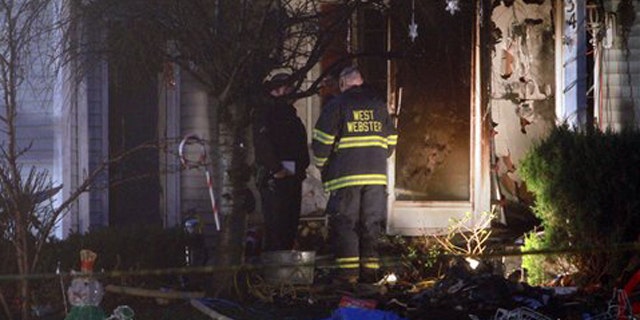 WEBSTER, N.Y. – A 15-year-old boy poured gasoline throughout his home and set it ablaze early Wednesday, killing his adoptive father and two brothers, police said.
Michael Pilato, a high school sophomore, was charged with second-degree murder and arson hours after the 1 a.m. fire at a two-story house adorned with holiday lights in Webster, a Rochester suburb.
At least one of the upstairs bedrooms -- its front window torn out by firefighters -- was badly scorched. In the front yard, an ornamental Santa in a wooden sleigh stood next to piles of burned debris and insulation.
Investigators said Pilato admitted he "poured gasoline throughout the interior of the residence" and set it on fire with the intention of causing deaths. Killed were his 71-year-old father, Carmen, and brothers Peter, 16, and Joshua, 12. They offered no clues for his actions.
The victims were all found upstairs. Al Sienkiewicz, a West Webster fire department spokesman, said it was unclear if the house had working smoke detectors, but firefighters "did not hear anything going off."
Pilato's mother, Elaine, 59, and a 13-year-old sister, Elizabeth, escaped with injuries. The mother was in guarded condition, and the girl was in satisfactory condition at a hospital.
A Webster town judge entered a not guilty plea for Pilato and ordered him to return to court Thursday to decide if he can be represented by a public defender.
The judge agreed to a prosecutor's request that Pilato undergo a mental evaluation before being sent to a juvenile lockup. He was ordered held without bail.
During a brief court appearance, the slightly built Pilato answered the judge's questions with a simple "yes" or "no" in a soft, even voice.
Authorities declined to say when or where Pilato was taken into custody.
Neighbors said Carmen Pilato had adopted several children after his biological children were grown. Carpenter James Strassner, who lives a few doors away, said one of Pilato's daughters, now in her 30s, told him: "Dad wanted to be more involved with kids and took them in."
Police said they had been called to the residence several times in the last year to investigate "missing person situations" but declined to elaborate because the complaints involved minors.
Michael Pilato split his school day between high school and vocational school, Webster school officials said. The deaths were announced to students Wednesday morning and grief counselors were being made available to students and staff.
If convicted of murder as a juvenile offender, Pilato could be sentenced to a minimum of 7 1/2 years to life in prison and a maximum of 15 years to life, District Attorney-elect Sandra Doorley said.
Another neighbor said the juxtaposition of holiday decorations and yellow police tape was haunting.
"At this time of year, when you see all the Christmas lights and the sleigh and then you see them carrying out these kids, it was just a terrible, terrible scene," said neighbor Patti Pasquarella, a products buyer at Xerox Corp.'s manufacturing hub in Webster.
"It makes you appreciate what you have," said Pasquarella, a mother of three.