New York City kidnap and ransom plot foiled after 'some damn fine police work'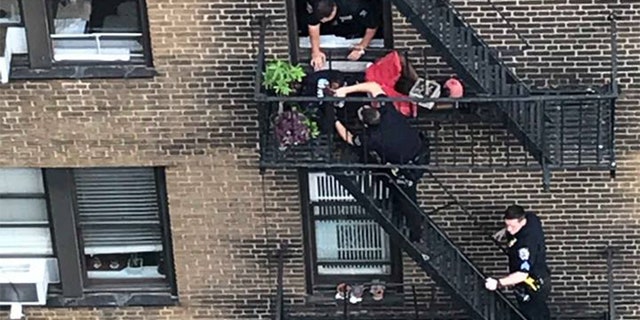 A New York City kidnap and ransom one veteran officer called "one of the strangest cases" he's ever been involved in ended with two arrests after "some damn fine police work," officials said.
Rondell Halley, 33, and alleged accomplice Francisco Jimenez, 24, were in custody Wednesday following a multi-borough sequence of events that unfolded the day prior, and facing charges including kidnapping, criminal possession of a weapon and reckless endangerment.
"Bad guys in jail? Yep. Anybody hurt? Nope. A gun off the streets? Yep. We'll go ahead and label that 'some damn fine police work,'" the NYPD's 20th precinct boasted on their Facebook page alongside photos of the officers who made the arrests – one of which happened on the 8th floor of a building's fire escape.
Police say the incident began Tuesday morning when a delivery truck driver accidently bumped into a parked car in Brooklyn. Halley and Jimenez reportedly approached the driver, claimed they knew the car's owner and demanded $1,000 to pay for the damages. So the driver called his manager.
"The boss said, 'No, don't hand them cash. Let's go through the insurance company,'" NYPD Captain Timothy Malin said Tuesday.
Malin said after being denied, the two men kidnapped the driver at gunpoint and called the boss back, telling him "if you want your van back and if you want your delivery driver back, you are going to have to pay us."
The boss said he agreed to meet the two men at a Manhattan bank to pay the ransom – but, unbeknownst to them, he also tipped off police.
Police said they hid as the men and their hostage arrived in a BMW at the bank – and then popped out to arrest them.
While trying to flee police, the two men allegedly crashed their car a block away from the bank and one of them was soon caught trying to get away on foot. The other man, police said, was taken into custody on a fire escape after running through a school and alleyway.
Malin said it was "one of the strangest cases that I've been a part of in the 18 and a half years I've been with the New York City Police Department."
Police said they found a .25-caliber pistol, heroin and cocaine inside the BMW.
The delivery truck driver was not hurt in the incident, but he told the New York Post he has since quit his job.