New video shows heated argument leading up to controversial Waffle House arrest, report says
New video of a controversial arrest at a North Carolina Waffle House reportedly shows a man in a prom tuxedo and his sister engaging in a heated argument with restaurant employees before the contentious interaction with police.
The clips, obtained by the Raleigh News & Observer, appear to show Anthony Wall's sister accusing employees of cursing at her, and both Wall and his sister cursing back at the staff, the newspaper reported. Wall, 22, had escorted his 16-year-old sister to the prom prior to the incident.
Kaia Johnson, 18, recorded the footage and posted the video to SnapChat, according to the News & Observer. She is a student at Wallace-Rose High School in Teachey and attended the prom as well.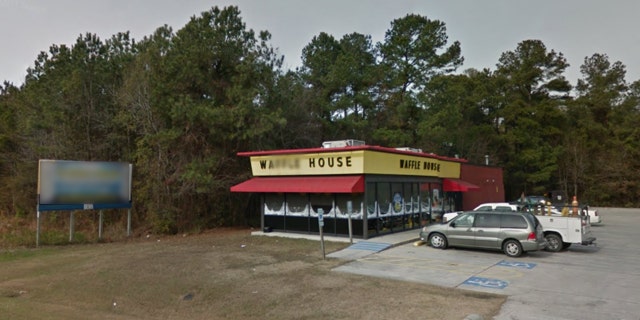 It's unclear what started the argument.
Another video that went viral last week showed Warsaw Police Officer Frank Moss grab Wall by the neck and choke him against the restaurant window before throwing him to the ground and arresting him.
"Your hands should have never been around my neck like that if my hands were in the air," Wall said.
Wall's lawyers have said they were attempting to acquire police bodycam footage of the arrest, according to the News & Observer. Warsaw police and the State Bureau of Investigation were investigating.
Warsaw Mayor A.J. Connors has contended the incident wasn't racially motivated and that Wall "started a fight" with Waffle House employees and should have been arrested, the newspaper reported.
On the other hand, Benjamin Camp, one of Wall's lawyers, claimed that restaurant employees used gay slurs when addressing his client and that they were the ones who started the incident.
Bernie King, the daughter of civil rights leader Martin Luther King Jr. called for a boycott of the restaurant, while the NAACP Legal Defense Fund demanded the police department to release any video of the incident.
"Family, let's stay out of Waffle House until the corporate office legitimately and seriously commits to 1. discussion on racism, 2. employee training and 3. other plans to change; and until they start to implement changes," King tweeted last week.