New Orleans Confederate monument controversy sees new protests, arrests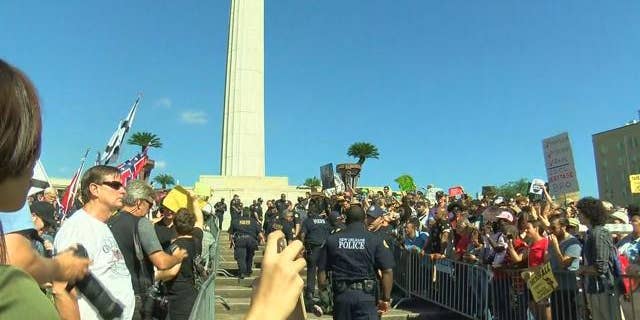 New Orleans police made arrests after groups for and against the removal of Confederate-era monuments clashed at Lee Circle.
Nearly 1,300 people converged on Lee Circle for the largest protest yet. Groups against the removal gathered for hours.
Sunday afternoon more than 1,000 marchers with the anti-monument group "Take 'em Down Nola" met and marched from Congo Square.
There were some skirmishes when they marched toward Lee Circle.
CONFEDERATE FLAGS AND THEIR EFFECT ON TOURISM
Monument supporters said they were out in an effort to prevent monuments from being defaced.
New Orleans Mayor Mitch Landrieu has said the three remaining statues -- P.G.T Beauregard near City Park, the Robert E. Lee at Lee Circle and Jefferson Davis in Mid-City will be coming down.
CONFEDERATE MONUMENT REMOVED IN DEAD OF NIGHT
On April 24, the Liberty Place monument was taken down.
New Orleans police report three arrests during Sunday's demonstration. The three arrests stemmed from a scuffle that broke out.