New Mexico's REAL ID rules have forced court caseloads 'to go off the charts'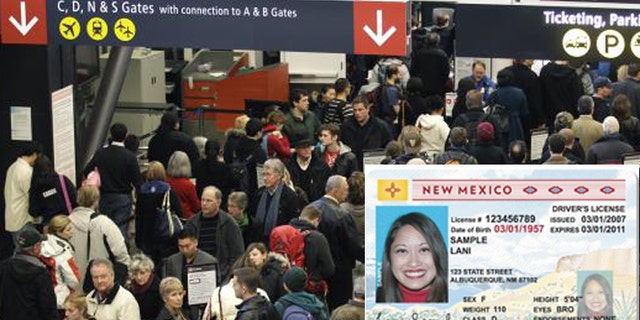 For decades, New Mexico residents didn't give much thought to the name on their government-issued IDs. They sometimes changed it – though not legally – to a name they preferred or didn't care if their name was misspelled.
But then the state passed the REAL ID Act, a stricter identification requirement that forced residents to either keep their legal name on all government -issued IDs or petition the courts to change it. And that has forced hundreds of New Mexican to flood the courts to update and verify their official documents, from their driver's licenses to their passports to their social security cards.
Presiding Civil Division District Court Judge Shannon Bacon said in her seven years on the bench, she has never seen such an influx of people petitioning the courts to change their names.
MISSOURI-GOVERNOR SAYS TRUMP MIGHT INTERVENE ON REAL ID ACT
"The REAL ID compliance has forced our caseload to go off the charts," said Bacon.
The Santa Fe New Mexican reports about 1,400 state residents filed name-change requests between January 1 and April 11. That's compares to about 1,700 people for all of 2016. Many are heading to the courts with misspelled names on documents that were never corrected or the individual goes by a different name than what appears on official documents.
Bacon said many of the cases are people who started using nicknames on their government IDs that are different from their birth name – and they never bothered to petition the courts for the name change. But generational rules that have changed over time, particularly after the September 11th terrorist attacks, are forcing those people to formally and legally make the change.
Even people in their 90's, Bacon said, are coming in for a name change. Only when residents have a uniformed name on all their official government documents can they obtain a REAL ID, which are for federal purposes and allow holders to board commercial flights or enter federal facilities.
NM GOV. SUSANA MARTINEZ SIGNS BILL REVISING STATE'S DRIVER'S LICENSE LAW
Ben Cloutier, director of Communications for the New Mexico Taxation and Revenue Department, which oversees the state's official documents, said many people illegally changed their names and cannot provide document to demonstrate "name traceability" in order to obtain REAL ID credentials.
"We are working with the New Mexico Department of Health and the courts to better communicate with these individuals the processes they can use to legally change their names or formalize their name change – while causing the least inconvenience to customers," Cloutier said.
But, he said, that doesn't mean the agency will water down the rules. The REAL ID laws were put in place after 9/11 to prevent potential terrorists and illegal immigrants from buying fake IDs.
"In the interest of national security, to prevent fraud, and to ensure that New Mexicans are able to have access to a secure ID that won't require them to use passports to enter our national labs and military bases or to get on an airplane – we will continue to strictly enforce the standards that are outlined by the Real ID Act," Cloutier said.
In 2016, New Mexico's Republican governor, Susana Martinez, signed into law HB 99, which reformed the state's driver's license laws "to ensure that dangerous criminals and illegal immigrants would no longer flock to New Mexico to obtain a driver's license." That law brought the state into compliance with the federal REAL ID Act.
While Martinez long opposed issuing driver's licenses to illegal immigrants, HB 99 did not fully repeal a controversial bill signed into law by then-Gov. Bill Richardson, a Democrat, in 2003 that allowed illegal immigrants to drive.
"HB 99 also provides a permit to illegal immigrants, called a driving authorization card, that cannot be used for federal identification purposes," said Cloutier.
The law requires illegal immigrants seeking to obtain a driving authorization card to undergo fingerprint scans and background checks. The authorization will not be granted until aliases and criminal bench warrants are resolved and the person needs to prove identity and residency.
Since November, the state has issued 168,961 REAL ID approved licenses, as well as 9,485 driving authorization cards.
Illegal immigrants who currently have valid driver's licenses will not be required to submit fingerprints when they apply for a driving authorization card, unless they let their license expire.