Video shows state troopers pulling unconscious driver from burning car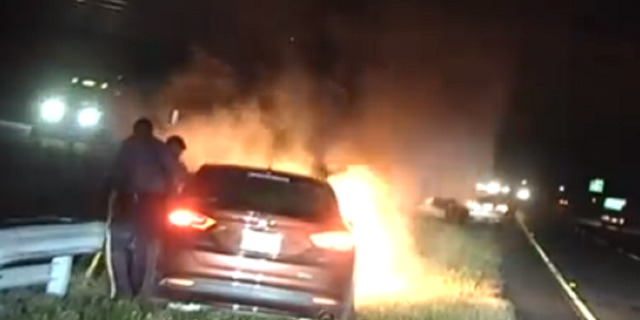 An unconscious motorist narrowly escaped death this week thanks to two New Jersey State Police troopers who pulled him from his car seconds before it became engulfed in flames, footage from the officers' dashboard camera showed.
The troopers -- Christopher Warwick and Thomas O'Connor -- responded to an 11:23 p.m. report of a Ford Fusion that had crashed into a guardrail along Route 42 in Gloucester Township, the Post-Courier of Camden County reported, citing law enforcement officials.
The call "came out as very generic," Warwick told Philadelphia's KYW-TV.
"You don't really know what to expect but you weren't expecting something as horrific as a car being on fire and someone inside of it," O'Connor said.
When the troopers arrived, the driver was unconscious and the vehicle's front end soon caught fire, state police said Thursday on Facebook. The driver's foot was pressing on the accelerator, police said.
WISCONSIN FIREFIGHTERS RUSH TO RESCUE MAN TRAPPED IN BURNING VAN, DRAMATIC VIDEO SHOWS
"Your car's on fire, bro," one of the troopers can be heard shouting.
"Your car's on fire, bro."
The troopers work together to pull the driver through the window as the flames enveloped the car, the dash-cam video shows.
One of the troopers repeatedly yells: "Get out of the car!"
The man regained consciousness once he was rescued, police said. He reportedly suffered no injuries and declined medical attention. His identity was not disclosed.
The troopers told KYW that the driver said he "likely" fell asleep because he had been working long hours.