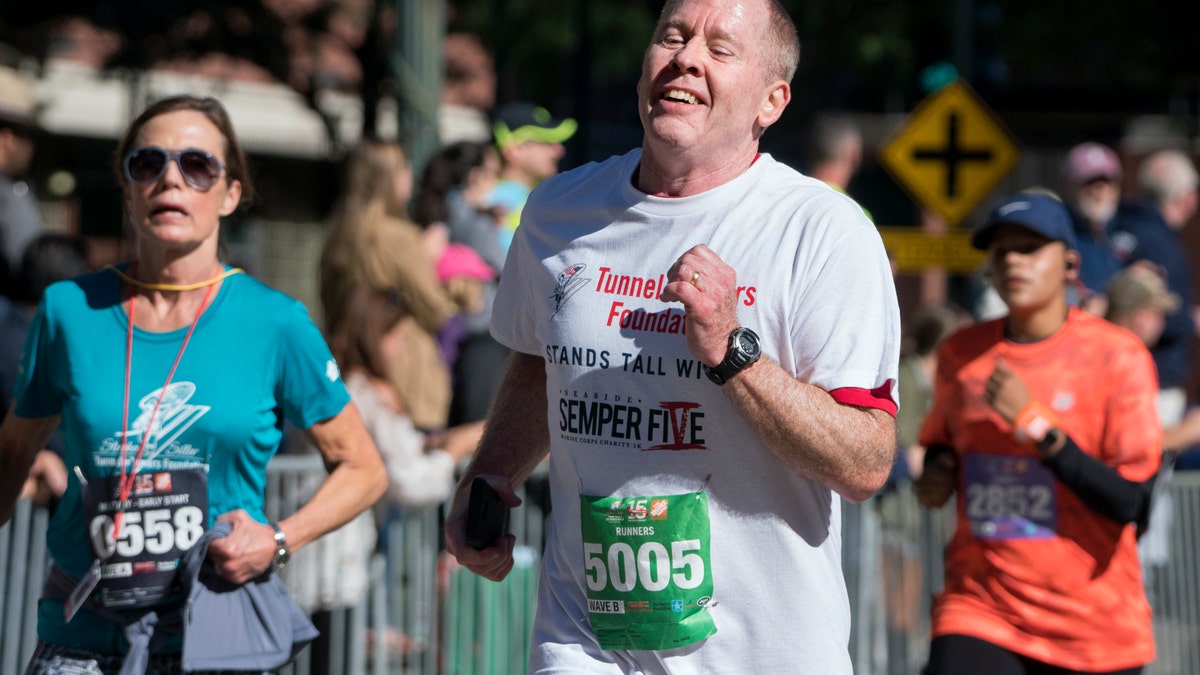 A group of runners whose New Jersey race was canceled after a pipe bomb exploded on the route linked arms as they joined a New York City race Sunday, and said they had no fear at all about taking part.
The racers, wearing matching white T-shirts, were among the 30,000 participants in the annual Tunnel to Towers Run, joining firefighters in full gear and wounded veterans. The run traces the route of off-duty firefighter Stephen Siller, who died after running from Brooklyn to the World Trade Center on 9/11. Proceeds go to building smart homes for wounded veterans of the Iraq and Afghanistan wars.
On Sept. 17, the pipe bomb went off on the course of the Semper Five charity 5K in Seaside Park, New Jersey. No one was injured.
Robert Schenk, a Brick, New Jersey, resident who had been at the Seaside Park starting line, said he "didn't hesitate one second" to sign up for the Tunnel to Towers race and was "just nervous" to finish it, like any other race.
"I feel fortunate given everything last weekend that I'm able to get up and do it," said Schenk, a 55-year-old program manager in communications for the U.S. Army.
The Seaside Park bombing was one in a series in the New York-area last week. Bombing suspect Ahmad Khan Rahami was taken into custody Monday and is facing charges in both New York and New Jersey, authorities said.
Former New York City Mayor Rudy Giuliani, who was at the race, said the group of Semper Five runners shows that terrorists "haven't stopped us."
"I'm glad they came out because they showed what America is all about," Giuliani said.
Hundreds of security officers were at Sunday's race, said Siller's brother, Frank Siller, who is the CEO of the Tunnel to Towers Foundation. Security protocols were not changed by the bombings, he said.
Since the first race in 2002, Tunnel to Towers has raised more than $70 million and built or designed 56 smart homes for wounded veterans, officials said.
The end of the course was lined by hundreds of firefighters holding photos of first responders who were killed on 9/11.
Susan Riggs, a 55-year-old Semper Five participant from Westfield, New Jersey, said it was "amazing."
"I was really teary-eyed to know we were following in (Siller's) footsteps, and these guys are doing the same thing," she said.