Nephew of Florida cop killed in line of duty sworn in as 'special policeman'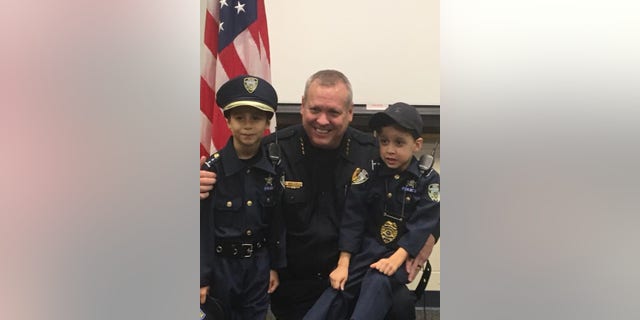 Enzo Russell spent his sixth birthday with a handful of new friends -- police officers from Kissimmee Police Department in Florida.
The officers gave the 6-year-old boy, the nephew of fallen Kissimmee Police Sgt. Richard "Sam" Howard, a gift he'll never forget. He was sworn in as a police officer on Wednesday, ready to continue the legacy his 10-year veteran uncle left behind.
"I Enzo, being a special policeman, promise that I'll be a good boy, that I will always love my parents," Russell repeated after Kissimmee Police Chief Jeff O'Dell during an informal swearing-in ceremony. "I will always love other policeman. I will always do my best. I will always have my badge with me."
The police department posted a minute-long video of the ceremony on Facebook and congratulated Russell on joining the force.
"Officer Enzo's swearing in with Uncle Sam's photo behind him. #KeepingTheMomentum," the department posted on Wednesday.
The post was viewed nearly 4,000 times and received several comments.
"Welcome to the brotherhood, Enz," one Facebook user commented.
"I love the 'promises' you gave Officer Enzo to uphold, Chief O'Dell," another wrote. "Truly good of all of us to do our best to keep!"
Howard, 36, was killed in the line of duty in August 2017.
He was responding to a call about three suspicious persons, alongside fellow officer Matthew Baxter. The police officers were shot shortly after their arrival.
Baxter died from his injuries minutes after the shooting and Howard died the next day, according to the Orlando Sentinel.
"They're two wonderful men," Kissimmee Police Chief Jeff O'Dell told the local newspaper at the time. "They are two officers who are committed to doing it the right way. They are both very committed to the community."
Everett Glenn Miller, 47, is accused of shooting both of the cops in the head. Miller was arrested at a nearby bar after the shooting and is now being held in Osceola County Jail.