Navy's new stealthly Zumwalt rescues stricken fisherman off Maine coast
The U.S. Navy's brand new $4.3 billion stealth destroyer, the Zumwalt, came to the rescue of a fisherman suffering chest pains early Saturday off the coast of Maine.
It was only Monday that the Zumwalt, the largest destroyer ever built for the Navy, headed out to sea for the first time.
Coast Guard officials reported receiving a distress call at about 3 a.m., saying the 46-year-old captain of the fishing boat Danny Boy was suffering chest pains about 40 miles southeast of Portland.
The Zumwalt was conducting sea trials in the area and responded to the scene, the Portland Press Herald reported.
A Coast Guard Jayhawk helicopter had responded from Air Station Cape Cod but the crew determined a hoist of the stricken fisherman would be too dangerous due to the configuration of the fishing boat's deck.
Officials said a crew and small boat from the Zumwalt transferred the man to the destroyer's deck. The helicopter crew then hoisted the patient and transported him to shore, where he was taken to Maine Medical Center for care.
"Our main concern with this type of medical emergency is to recover the patient safely and transport them to a higher level care as quickly as possible," said Lt. David Bourbeau, public affairs officer at Sector Northern New England. "Fortunately the Zumwalt was operating in the area and was able to provide valuable assistance."
Two days ago the Press Herald reported that the Zumwalt caught Maine's largest city by surprise when it emerged from the fog just off Cape Elizabeth and slipped unannounced into Portland Harbor.
The 610-foot ship is the first of a new class of high-tech destroyers, the paper reported. Its deckhouse is entirely enclosed atop the angular ship, which sits low in the water, like the iron-hulled steamship the USS Monitor, the first ironclad warship commissioned by the Union Navy.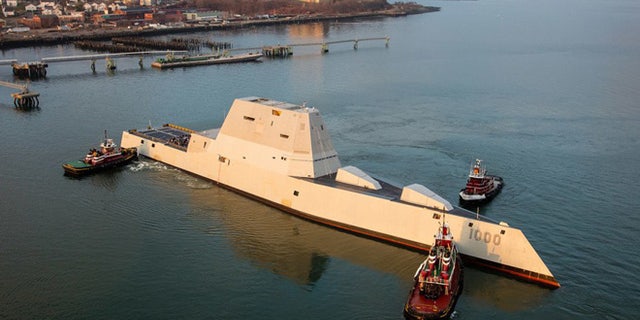 On radar, the ship looks more like a small fishing boat than a 600-foot warship.
The ship has electric propulsion, new radar and sonar, powerful missiles and guns, and a stealthy design to reduce its radar signature. Advanced automation will allow the warship to operate with a much smaller crew size than current destroyers.
All of that innovation has led to construction delays and a growing price tag.
After departing from shipbuilder Bath Iron Works, the vessel had to carefully navigate the winding Kennebec River before reaching the open ocean.
More than 200 shipbuilders, sailors and residents gathered to watch as the futuristic 15,000-ton ship glided past Fort Popham, accompanied by tugboats.
Bath Iron Works will be testing the ship's performance and making tweaks this winter. The goal is to deliver it to the Navy sometime next year.
The Associated Press contribute to this report.