Navy admiral reportedly fired for public drunkenness, nudity at conference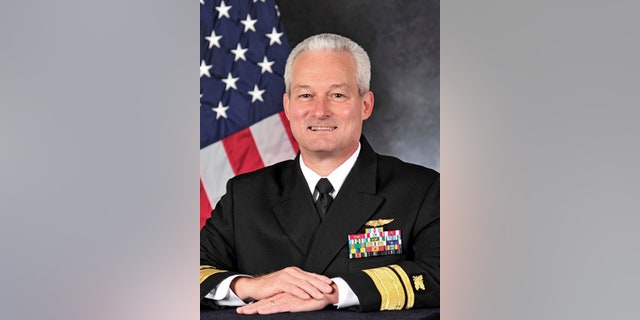 A top Navy supply officer has been fired for an episode involving public drunkenness and nudity at a conference with defense contractors earlier this year, according to published reports.
Navy Times reported Tuesday that Rear Admiral David Baucom had been removed from his job as director of Strategy, Policy, Capabilities, and Logistics at U.S. Transportation Command this past October. The news site reported that Baucom's firing stemmed from an incident during an April conference in Ponte Vedra Beach, Fla.
A Navy investigation found that Baucom, 56, became so intoxicated during an April 7 dinner with approximately 70 other conference attendees that he could not stand up and had to be brought back to his room by a hotel employee. Later that evening, the admiral was discovered wandering naked through the hotel asking for a towel to cover himself up.
Baucom blamed his behavior on mixing alcohol with prescription drugs for a heart problem in a statement provided to Navy times. The Washington Post also reported that Baucom had told a colleague in an e-mail that he did not pack pajamas for the trip to Florida because he was concerned about the weight of his luggage and "did not want to pay the extra $25 for a second bag."
"After extensive medical testing and diagnoses, four doctors have stated in writing that I most probably experienced an atrial fibrillation event ... which caused lightheadedness, disorientation, dizziness and confusion," Baucom said of the night in question. "I have served the Navy for more than 34 years and am proud of our institution. I deeply regret my actions caused discredit to the Navy I love."
However, an inspector general's report found that Baucom's "level of intoxication and his public nudity are of such a nature that they dishonored or disgraced him personally and seriously compromised his standing as an officer."
Click for more from Navy Times.