National Teacher of the Year works with refugee students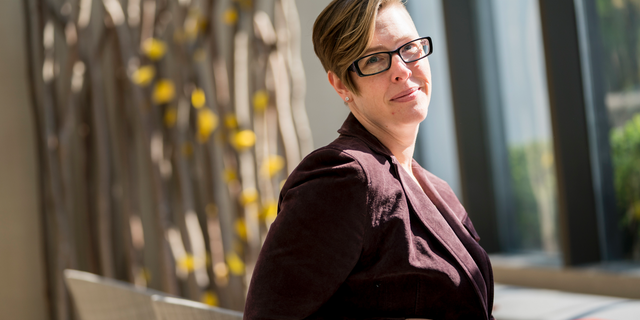 SEATTLE – The 2018 National Teacher of the Year leads a classroom for teenage refugees that serves as their entry into American high school culture.
For much of the past decade, Mandy Manning has taught at the Newcomer Center at Joel E. Ferris High School in Spokane, Washington. The center has a specialized English language development program for newly arrived refugee and immigrant students.
For five hours a day, they work on setting up a base of academic knowledge so that the teens can ultimately join their peers in general education classes. Manning also helps them adjust to American culture — from navigating the cafeteria and reading body language to understanding classroom etiquette, like taking turns when speaking.
Manning's selection was announced Friday by the Council of Chief State School Officers.
"Mandy is a strong educator who believes in a great public education for every student and has a unique perspective on meeting the needs of some of our nation's most vulnerable children," the state superintendents' group said in a statement.
The winner embarks on a yearlong advocacy role to represent the best of the profession. Manning says she will use her new platform to urge educators to get out of their comfort zones,.
Manning plans to use her new platform to spread a message of unity, urging President Donald Trump to be a president for everyone in the United States.
"I would encourage him to go out into neighborhoods and into places where he hasn't gone before, to try to experience their lives...to continue our legacy of welcoming and being open and inviting of all peoples," Manning said.
Manning's students come from all over the world, many escaping chaotic, conflict-torn homelands across the Middle East, Africa, Asia and the Americas. Though she had a record 33 students in the fall of 2016, she's now working with just five.
It's a correlation Manning can't ignore — that there has been such a drop in the number of refugees and immigrants landing in eastern Washington coinciding with the Trump administration's tightening immigration policies. Fewer refugee families mean the children just feel more isolated in their new world, she said.
The risk of isolation is motivation to be even more intentional about making her students visible in the community, Manning said.
She takes them to work at the student store to engage with their peers, even though they may not yet have the language skills for typical teenage chatter. She does a map-building exercise so they can gain the confidence to both talk about where they came from and also ask their new neighbors for directions.
Manning, who said she's also shaped by her international teaching experience and Peace Corps service, learned to embrace and cherish people who are different because she moved two dozen times in her youth while being raised by a single mother.
Her job now, she says, is as much about integrating the children to their new lives, as it's about being a bridge for the local community to connect with the unfamiliar. It's an experience so profound for her that Manning, a married mother of three, cried when describing it.
"What a privilege and an honor to be the student's first teacher, to be that for these kids and to help them transition into this new culture," Manning said. "I get to see and experience a lot of beauty and I'm very, very, very lucky."
The national award winner is generally recognized by the president at a White House ceremony each spring.
___
Follow Sally Ho at https://twitter.com/_sallyho .